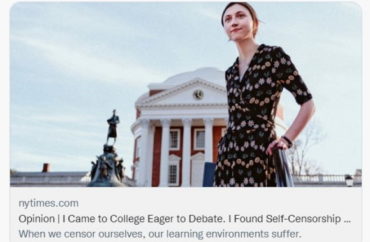 When University of Virginia senior Emma Camp wrote an op-ed for the New York Times about feeling silenced by a university culture that privileges feelings and conformity over debate, she may have hoped to reach readers who sympathized, or put up good arguments against her claims.
Though some feedback was positive, some of the online reactions have offered more evidence of the phenomenon she witnessed. Twitter has been aflutter with misinterpretations and ad hominem attacks.
Imani Gandy, senior editor of law and policy for Rewire News, took issue with Camp's race and gender — and asserted incoherently and without evidence that "being self-censored" happens all the time, to "a different aggrieved [white] woman every week, seemingly."
"I'm being self-censored by publishing an op-ed in the New York Times." – a different aggrieved ⚪️ woman every week, seemingly

— ⚓️Imani Gandy⚓️ (@AngryBlackLady) March 7, 2022
Some claimed that Camp simply disliked having her ideas criticized, though she described a culture of fear, conformism and emotional intimidation, not friendly disagreement.
Steve Albini, a musician and recording engineer, dismissed the essay:
I came to college to have no one disagree with me. I found some people disagreed with me. This is censorship. I am so silenced my only outlet is the New York Times. https://t.co/GSXdTbCaBn

— steve albini (@electricalWSOP) March 7, 2022
Ben Collins, a reporter who covers "disinformation, extremism and the internet for NBC News," made a handy New York Times mock-up page to mock her:
— Ben Collins (@oneunderscore__) March 7, 2022
Others threw in some whataboutism – the fallacy of deflecting a claim by criticizing the speaker.
Here's an example from Dana Stevens, who also suggested that Camp can't be brave because other people in the world face harder, non-related things:
Imagine writing "I have been brave" about yourself, this week of all weeks, for all the world to see, because you hung an extra-big sign on your dorm-room door. https://t.co/GX0tnFk1aD pic.twitter.com/7GvBBljiDF

— Dana Stevens (@thehighsign) March 7, 2022
And Nikole Hannah-Jones, the New York Times Magazine correspondent and founder of the 1619 project, questioned the study that Camp cited to illustrate her claims. However, Hannah-Jones then said that she knows "quite a few" black students at UVA "who indeed self-censor," which seems to support Camp's point.
I haven't met a single Black person at UVA who has found this a particularly progressive institution and have talked to quite a few who indeed self-censor. If the best example she has of repression is a room feeling tense, shifting in seats, I wonder what she came to college for? pic.twitter.com/mZFDLGU7zW

— Ida Bae Wells (@nhannahjones) March 7, 2022
The Foundation for Individual Rights in Education — where Camp worked as an intern — entered the fray, responding to Hannah-Jones and others who "falsely claimed speech suppression on college campuses isn't a real problem, and that the College Free Speech Rankings is not a valid study."
In response to Hannah-Jones's claim on Twitter that we "don't" know whether minorities or progressives were included in the College Pulse/FIRE/Real Clear Education Free Speech Rankings Study, FIRE linked to publicly available data demonstrating that these populations were, in fact, included. FIRE also reprinted highlights of the study that "zero in on the exact questions Hannah-Jones is asking."
Regardless, Hannah-Jones seemed determined not to take Camp seriously.
I've seen so many versions of this story over the last few years and even so, this one seems particularly thin. https://t.co/NzWW2CYixR

— Ida Bae Wells (@nhannahjones) March 7, 2022
Camp may have faced more emotional intimidation outside the classroom — but these Twitter commentators did her the service of confirming the problem she describes.
However Camp has received the flack with grace.
"I just want to take a quick moment to thank everyone who's taken the time to read my piece over the past few days. I'm so grateful for all the kind comments, but also for the constructive and thoughtful criticism," she tweeted Wednesday.
MORE: New York Times finally gets it: on campus, feelings cancel facts
IMAGE: Twitter/@emmma_camp_
Like The College Fix on Facebook / Follow us on Twitter