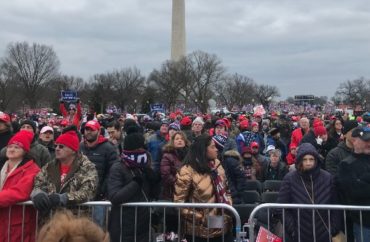 Still no evidence he participated in any violence
A Virginia public school teacher has resigned after the school district began investigating him over comments he made about the events of January 6, including violence at the U.S. Capitol.
Benjamin Plummer resigned from his position at Fred Lynn Middle School, part of the Prince William County Public Schools district, near D.C, according to Fox 5. He left the school in early February according to an email shared with The College Fix. However, local news organizations, including Fox 5, only reported his resignation last week.
"I am writing to share with you that your child's social studies teacher has resigned from Prince William County Public Schools," Hamish Brewer, the middle school's principal, told parents via email on February 2.
District spokesperson Diana Gulotta shared the email with The Fix on Monday morning and did not provide further comment on Plummer's resignation.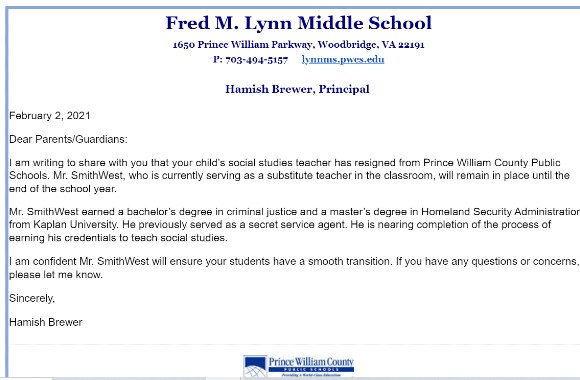 Plummer had been placed on leave by school officials after a video circulated on social media showing him discussing the events of January 6.
A student had uploaded a video of Plummer discussing the events of January 6 event during a class.
Minimal context is provided and Plummer never says he participated in the violence at the U.S. Capitol or was part of the protesters who entered the U.S. Capitol. Most of his comments focused on the media coverage of the events of the day.
MORE A student posted this video on Twitter, reportedly showing Prince William County Schools teacher Benjamin Plummer telling students he "was there" at the US Capitol riot, defending rioters and more.@fox5dc #stayahead pic.twitter.com/HejNwqbt9T

— Tisha Lewis FOX 5 DC (@TishaLewis) January 22, 2021
"They seem to get a bad rap," the social studies teacher told his class, referring to Trump supporters.
"I was there, that's what I witnessed, that's what I saw," Plummer said.
He also appeared to comment on violence this summer from ANTIFA and or Black Lives Matter protests, though he does not name the perpetrators in his comments.
"If you think about the media itself, right, we listened to three months in the summer of organizations destroying cities, burning cities, looting cities," Plummer said. "What does the media say about these people? 'Oh, they're peaceful protesters.'"
The local NAACP pushed for Plummer's termination.
"[W]e take the position that any teacher who brings his or her political philosophies to the classroom, especially the specious lies that Mr. Plummer allegedly told his students, is not fit to be a teacher," Cozy Bailey, the president of the Prince William County NAACP, previously told The Fix.
MORE: Students demand resignation of professor who attended January 6 protest
IMAGES: Asher Notheis; Prince William County Public Schools
Like The College Fix on Facebook / Follow us on Twitter