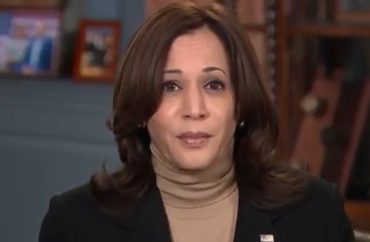 Ignores advice from administration's own CDC director
Vice President Kamala Harris refused to say if she agrees with the Centers for Disease Control and Prevention's position that teachers do not need the COVID vaccine before they can return to school.
CDC Director Rochelle Walensky has said states should prioritize teachers, but also said that vaccination is not a "prerequisite" for schools to reopen.
"Can you reassure teachers that are listening right now that it is safe for them to go back to school even if they are not vaccinated?" Savannah Guthrie asked Harris on the "The Today Show" this morning.
However, Harris did not directly answer the question. Guthrie again asked if it is safe for teachers who are "not vaccinated" to return to in-person teaching.
Harris said that President Joe Biden supports teachers but said "we have to decide if we can put into place safe measures."
Guthrie had specifically asked if vaccines were necessary assuming that schools implemented mask mandates and social distancing in their policies.
"Teachers should be a priority." –@VP when asked if it's safe for teachers to go back to school even if they're not vaccinated pic.twitter.com/mdX7xaLxkr

— TODAY (@TODAYshow) February 17, 2021
Harris continued by saying that Congress needs to pass Biden's stimulus plan, the "American Rescue Plan."
"It's going to be safer for our schools to reopen when we can get our schools the infrastructure needs," including ventilation and barriers, Harris said.
Guthrie asked about vaccination a third time and Harris said that teachers "should be a priority" when schools reopen. The "Today Show" host then pivoted to questions on the COVID relief plan, without asking Harris again about vaccinations.
WATCH: CDC director says vaccines are not a 'prerequisite' for schools to reopen
IMAGE: The Today Show/Twitter
Like The College Fix on Facebook / Follow us on Twitter