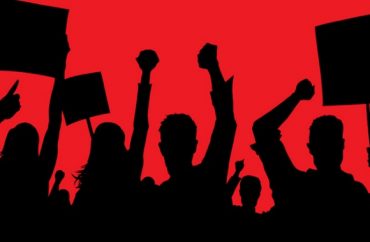 Violence, threats have not compelled schools to strengthen speaker protections
In spite of the fact that a violent student protest drove a speaker from campus last spring, the Claremont consortium of colleges has maintained the same speaker policies, refusing to alter school bylaws in order to ensure that controversial campus guests will be protected from student mayhem.
Not one of the member schools of Claremont Colleges has "altered their policies surrounding preventing disruptive crowds," The Claremont Independent discovered. The lack of change persists even as Claremont McKenna College last April witnessed a mob of students threatening, intimidating and in some cases even allegedly assaulting individuals in the midst of controversial speaker Heather Mac Donald's appearance on the campus.
That protest, The Independent reported at the time, was marked by "protesters massed tightly around the exits [of the venue], blocking fellow students from entering Mac Donald's scheduled presentation, entitled 'The War on Police'."
"Even faculty members who sought to enter the building were denied," The Independent reported, "with waves of protesters screaming and resorting to physical force to repel anyone who drew too close to the building. At one point, a crowd of White students screaming 'Fuck White supremacy, fuck White supremacy' pushed an elderly White professor away from the Athenaeum entrance."
The Independent reported earlier this week that, in spite of this dangerous demonstration, not a single one of the Claremont Colleges had bolstered or else altered its policy for hosting speakers on campus:
When asked if any of the five Claremont Colleges—which includes Pomona College, Claremont McKenna College, Harvey Mudd College, Scripps College, and Pitzer College—had altered their policies surrounding preventing disruptive crowds, each of the colleges independently confirmed that they had not adjusted their policies, and three of the five stated that event organizers were responsible for procuring funding for security.

Only Claremont McKenna and Scripps College indicated the possibility that they would cover the cost of security for an event. When asked how CMC planned to handle the potential financial burden of controversial speakers, Peter Hong, Associate Vice President for Public Affairs and Communications, told the Independent: "We consider covering extraordinary costs for any speaker."

Likewise, Scripps College's Associate Director of Media and Public Relations, Karen Bergh, indicated to the Independent that its administration provides some resources for event security, but that the financial burden of a speaker was one of the criteria that the administration reviews before allowing a speaker on campus:

"Scripps College has not introduced new policies, rather, in response to community concerns, we've ensured that event organizers are aware of the resources available to them to provide a safe, secure environment for all events. Requests for the use of campus venues are reviewed on a case by case basis and according to a range of criteria, including cost. We remain committed to providing a community forum for an exchange of ideas on a wide range of topics."
"When the Independent inquired after who assessed the events and the specific criteria used to evaluate speakers," the newspaper reported, "Ms. Bergh declined to comment further."
MORE: Angry mob shuts down Blue Lives Matter speech at Claremont McKenna College
MORE: Students who shut down 'War on Cops' author allowed to graduate, in break with college policy
Like The College Fix on Facebook / Follow us on Twitter