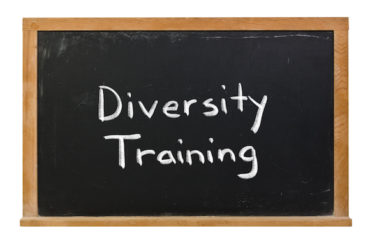 'Many of our students feel alienated and unwelcome here'
Wake Forest University will cancel classes for one day later this spring semester so professors can attend a diversity and inclusivity training at the private institution.
The Inclusive Teaching Conference will be hosted by the university's Center for the Advancement of Teaching, which noted in an emailed newsletter that faculty members voted to cancel classes to provide instructors an opportunity to attend the April event.
"Faculty have voted to cancel classes for this important event so that you may attend," the memo stated.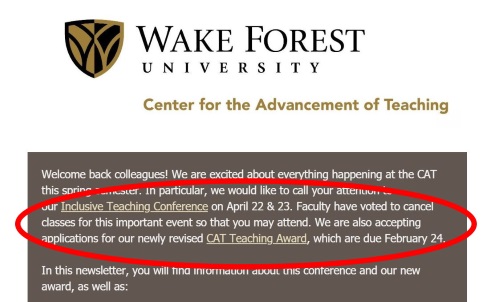 In response, campus leaders made it official.
"The deans canceled classes on April 23 with the broad consent of faculty in order to allow faculty to participate in a professional development opportunity focused on inclusive teaching practices," said campus spokesperson Cheryl Walker in an email to The College Fix.
Representatives of the Center for the Advancement of Teaching did not respond to repeated requests for comment from The College Fix.
"Devoting a day, rather than asking faculty to fit a series of workshops into their already overbooked schedules, will allow for community-building and focused attention on these critical issues," the center's website states.
The two-day conference, set for April 22 and 23, is in response to "recent events on campus [that] have made clear that many of our students feel alienated and unwelcome here," it states.
"Though a significant aspect of their experience relates to social spaces and systemic inequities, it is nevertheless also true that, for various reasons, they do not always find our classrooms to be spaces of welcome and inclusion."
The first, and much laxer, of the two days consists of a 90-minute talk by Claude Steele, a psychology professor at Stanford University. His talk, "Stereotype Threat and Identity Threat: The Science of a Diverse Community," seeks to explain the alleged benefits and "psychological significance" of a diverse learning atmosphere.
Day two's diversity training spans from 8 a.m. until 6 p.m., with morning and afternoon sessions repeated.
Participants may first attend a workshop led by Maria Chatelain, a professor of African American studies at Georgetown University. This workshop is designed to provide solutions to common "pitfalls" and "anxieties" of educators when shifting to more diverse and inclusive teaching.
Next, attendees can view a theatrical production titled "Cuts: Responding to Stories about Negative Climate Concerns." This role play depicts a "disturbing" racial incident between a professor and a student, according to its description. The scenario will "deepen appreciation for the structural and interpersonal challenges students of color encounter when seeking support to address bias incidents."
Also on tap is a 75-minute interactive workshop led by San Francisco State University biology professor Kimberly Tanner. Tanner's workshop will enable participants to "self-assess" their current teaching style and tolerance for diversity. The workshop is designed to help participants identify "strategies that could be immediately implemented in their classrooms, laboratories, group meetings, or other professional settings to promote fairness and increase access to learning for all students," states the center's website.
Next, Talithia Williams, an associate professor from Harvey Mudd College, will engage in a discussion with participants to help them motivate girls of color and underrepresented groups to pursue science, technology, engineering, or mathematics degrees.
Pamela Barnett, dean of the College of Arts and Sciences at La Salle University, will lead a workshop in which participants will discuss various ways they can create trust and manage conflict when facilitating "lively, interactive, and even transformative classes on race," according to the center's website.
"Participants will discuss strategies to help students develop metacognitive distance for critical thinking, to apply the concept of structural racism to their own comments, and to create release valves for escalating conflict," it states.
Adam Rothman, a history professor at Georgetown University, will "share strategies for designing courses and assignments that invite students to grapple with institutional history," the website states.
A discussion-based workshop conducted by Chayla Davis, an assistant professor at Texas A&M University, will "help faculty and academic leaders become critical and inclusive pedagogues, who create identity-affirming classroom learning environments for racially and ethnically minoritized students."
And William Cox from the University of Wisconsin at Madison will lead a workshop designed to help participants "uncover" their own biases. It seeks to introduce "faculty and staff to the concepts of implicit or unconscious biases and assumptions about diverse groups of people by treating the application of such biases as a "habit," with a focus on race, ethnicity, and gender."
MORE: Wake Forest student group warns admitted students about campus racism
MORE: Wake Forest Anti-Racism Coalition issues demands in response to campus 'anti-blackness'
IMAGE: Shutterstock
Like The College Fix on Facebook / Follow us on Twitter