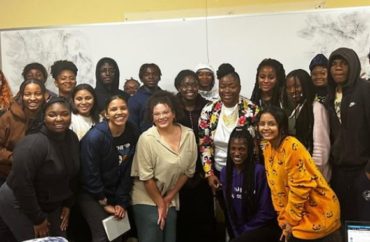 'Hate speech' punishments demanded by activists
The Black Student Union at Washburn University continues to call on school officials to meet all of their demands.
The group held a "peaceful takeover rally" last semester and wants to see more action from university administrators.
The impetus for repeating the demands was a perceived failure to punish a chemistry professor who allegedly wore blackface. Subsequent evidence showed the professor, Holly O'Neill, wore dark-greenish zombie makeup at a Halloween party.
The original list of demands, first released in 2019, included identifying a location for a "Multicultural Student Resource Center," "mandatory diversity training" for "all Washburn faculty, staff, administration and police," and creating punishments for "hate speech," according to the Washburn Review.
The College Fix reached out to BSU, and two alumni, D'Mya Valdivia and Alona Harrison, three times in the past three weeks for comment on the rally and demands. No responses were received to email and Facebook messages.
The black student group objected to the new multicultural center and cited what they said is a lack of input from BSU.
"Two members of the group were officially representing BSU, so we were involved in getting MILS, which is now the Multicultural Intersectional Learning Space," an activist said in the Instagram video. "When the opening of MILS was announced publicly in the summer of 2020 BSU students and BSU alumni were unaware that the project was finalized, BSU was upset about the name and angry that the space they requested was not the space created."
"So basically, we were lied to. Our input was asked, but after our input was asked at the beginning, it was no longer valid, it was no longer necessary," she continued.
The Fix reached out to members of the university media relations team and diversity office multiple times in the past three weeks to ask for comment on the demands of BSU, but no response was received. Danielle Dempsey-Swopes and Heather Center, administrators in the Diversity and Inclusion office, did not respond to requests for comment. Nor did media relations members Lori Hutchinson and Ellie Walker respond to media inquiries.
"There is much work to be done to fully commit ourselves to the dismantling of systemic racism and true inclusion on our campus," the diversity office wrote on its website. "This work will not be easy. It will require a sustained commitment from each of us and the strong partnership that exists at Washburn between academics and student life will be more important than ever."
A former New York University professor who left academia due to concerns about political correctness, criticized the group's demands, particularly when it came to "hate speech."
"Most of the policies that the Black Student Union is demanding at Washburn University are discriminatory, would abrogate the First Amendment right," Michael Rectenwald told The Fix via email.
"Implementing 'hate speech' rules infringes First Amendment rights," Rectenwald said. He said the term "is a slippery slope that essentially stands for speech that others hate. But there is no right not to be exposed to speech that one does not like."
He called the students "snowflake totalitarians" who have "weaponized their identities and supposed fragility" to suppress free speech.
They also want to "force all students to attend courses in make-believe subjects," in apparent reference to BSU's ongoing demand for mandatory ethnic studies classes.
"Such measures are crippling to those they are supposed to serve and destructive of free speech, academic excellence, and academic freedom," he said. "The BSU demands should be met with refusal in the strongest possible terms."
MORE: Black Student Union asks whites not to attend new 'Black Panther' screening
IMAGE: Washburn Black Student Union/Instagram
Like The College Fix on Facebook / Follow us on Twitter