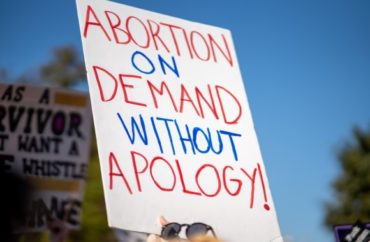 Aims to ensure the entire state has access to abortion 
A bill that would require Washington state colleges and universities to cover abortions in student health plans recently passed both chambers of the state legislature, and appears likely to be signed into law.
HB 1009 would mandate that student health plans "may not limit a woman's access to services related to the voluntary abortion of a pregnancy" and insurance plans "that provide coverage for maternity care or services must also provide substantially equivalent coverage to permit the voluntary abortion of a pregnancy."
The legislation passed the state senate on April 6 in a 29-19 party-line vote and has already passed the state house. It awaits Governor Jay Inslee's signature as of April 14.
One Republican state senator told The College Fix why he opposed the legislation.
"It's just another attempt to force insurance providers to cover abortions regardless of the religious, social or other objections of institutions and individuals," Mike Padden told The Fix via emailed responses sent through his staff.
"I am concerned that HB 1009 violates the religious liberty of Washingtonians," Padden said. He said the bill, along with another law called the Reproductive Parity Act, "are about as far away from being pro-choice as any mandate could be, in that they force private insurers to offer coverage for abortions."
The Reproductive Parity Act is a 2018 law that required all health plans to cover abortion.
While HB 1009 includes exemptions for religious colleges, it would not exempt students from subsidizing abortion for their peers.
"I hope that the bill will spur students of faith and pro-life students to be brave and vocal in standing up for life on their campuses," Padden said. He said he believes Governor Jay Inslee will sign the legislation but expects legal fights to ensue, because the Parity Act is currently in litigation.
MORE: Meet the business school professor combating pro-choice talking points
However, the Democratic sponsor of the bill said this legislation is needed to fix what she said is a problem in the Parity Act, because it did not cover student health plans.
"This was a piece that should have been part of the entire parity," My-Linh Thai said, according to The Daily, the campus paper of the University of Washington. The Parity Act did not cover the health plans typically offered by universities.
Neither Thai nor Vandana Slatter, another Democratic sponsor of the legislation, responded to multiple emailed requests for comment from The College Fix in the past two weeks.
Supporters of the legislation included members of the University of Washington's Graduate and Professional Senate and of the Associated Students of the University of Washington – Bothell.
Opponents included Students for Life of America, Centralia College Students for Life and the state Catholic Conference, according to the bill's summary report.
The Catholic Conference said that HB 1009 "not only promotes the destruction of human life but also violates the fundamental right to conscience guaranteed by our state and national constitutions," in a briefing report.
Students of faith "will have to choose between going without insurance or being forced to purchase policies that subsidize and promote a procedure that violates their conscience," the political arm of the Catholic bishops in the state said.
Although Governor Jay Inslee has yet to indicate whether or not he will sign HB 1009 if it reaches his desk, he has a staunchly pro-abortion record. "Reproductive healthcare, including family planning and abortion, is healthcare," Inslee said when he signed the Parity Act in 2018, according to the Washington Examiner.
MORE: Pro-life group takes aim at Christian universities, Planned Parenthood partnerships
IMAGE: Julian Leshay/Shutterstock
Like The College Fix on Facebook / Follow us on Twitter