UPDATED
Event held Wednesday at University of North Texas and hosted by conservative student group
A guest talk at the University of North Texas on Wednesday was shut down by an aggressive group of student protesters who shouted down the speaker, a Texas Republican running for the state legislature who is critical of child gender transitions.
The Young Conservatives of Texas campus chapter hosted the event, "Criminalize Child Transitions," which featured Jeff Younger, well known as the father who fought his ex-wife over their young child's gender transition in court. His run is reportedly driven in part by a desire to reform juvenile justice laws.
Various videos posted on Twitter over the last 24 hours show that students who support child gender transitions crowded the venue, banged on desks, shouted and chanted, and eventually got the event canceled.
Students are seen shouting "f**k you facist" and clapping their hands loudly against their desks as Younger attempted to speak in one video posted by the Post Millennial.
In another video posted by a Twitter user, Younger receives a barrage of students yelling at him, with some even standing up and confronting him near the front of the room.
What an embarrassing group of babies they have attending the University of North Texas. If you're a parent to one of these students, just know you failed. pic.twitter.com/xwhSLsSSp0

— Joseph (@TheWWEReject) March 3, 2022
He then tells the rowdy crowd: "Alright guys, I want to thank you for showing the world what leftist politics really is." Then someone dressed in all black with a black mask covering their face comes up to take his microphone, at which point he walks out as the crowd cheers and claps.
The situation got more intense as Younger and a co-host of the event, UNT student Kelly Neidert, past president of the club, left the campus venue.
"Black clad protestors swarmed outside an event at the University of North Texas featuring Jeff Younger, the father of a child at the center of national controversy over transitioning children," according to footage tweeted by Mary Margaret Olohan, a Daily Wire reporter.
LAST NIGHT: black clad protestors swarmed outside an event at the University of North Texas featuring Jeff Younger, the father of a child at the center of national controversy over transitioning children. pic.twitter.com/r7QJEsVFXM

— Mary Margaret Olohan (@MaryMargOlohan) March 3, 2022
Neidert also tweeted footage of police escorting her out as protesters surrounded them, writing she was eventually "forced to hide in a janitor closet with the lights off."
Neidert told The College Fix that the entire event was effectively canceled by the aggressive protest.
"As soon as Jeff and I walked in the room, screaming and yelling and booing started. So he didn't even really get to speak," she said in a telephone interview Thursday.
She said she believes many of the protesters are with Antifa, while others were UNT students. She said they got physically aggressive as she and Younger left the building.
The University of North Texas did not immediately respond to The College Fix's request for comment.
In a public statement released Thursday afternoon, UNT President Neal Smatresk stated "police believe a small group of protestors not affiliated with the university contributed to escalating the overall protest from peaceful to an aggressive encounter."
"These actions culminated with a group of protestors swarming police, who were working to safely escort both the guest speaker and student organizers off campus. DPS was called in to assist with maintaining safety," he stated, adding:
A group of protestors surrounded the police vehicles containing both the student organizers and their guest and attempted to block their exit from the scene by banging on the vehicles and impeding their movement. The officers engaged emergency lights and sounded warning sirens repeatedly while inching forward as other officers assisted in clearing a path for the vehicles to exit safely. We have heard accounts of a protester who was reportedly injured during that time. However, we do not have confirmed details of that report. While overall the event was not without incident, it did end without any reported serious injuries. UNT Police and the other supporting agencies were able to get the student organizers and their guest to safety, while also dispersing the protestors without further incident.

We have always touted the importance of freedom of expression and been proud of our students' ability to speak up for themselves and participate in nonviolent protest. UNT Police have continuously worked to create and maintain an environment safe for all students to express themselves, regardless of topic. As always, campus safety is our top priority, and we will continue working to provide a safe environment for our students. We have always been a passionate community that stands up for our ideals, but last night's behavior by some individuals is not reflective of the UNT I know and love.
A left-wing journalist who documented Wednesday's event has since deleted their tweets, but they have been archived, the Post Millennial reports.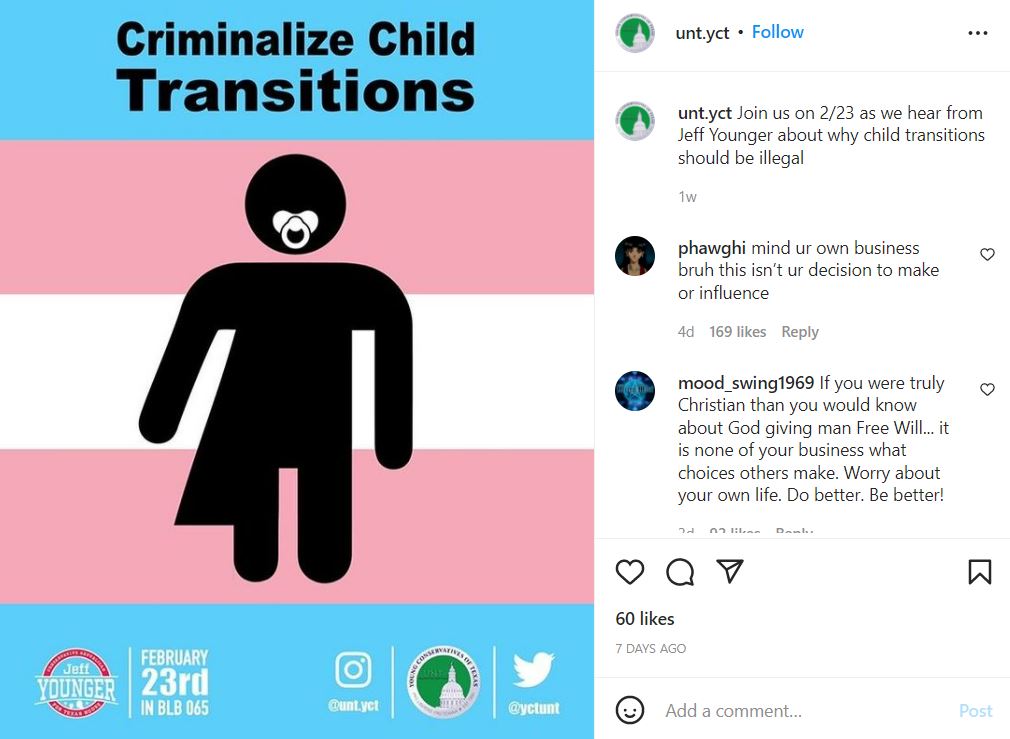 Younger made headlines in recent years as he fought against the transition of his eight-year-old son, James. James's mother sought to transition the child from a boy to a girl despite Younger's protest.
Wednesday's event was originally scheduled for late February but was delayed a week due to inclement weather.
Wednesday is also not the first time Neidert has received backlash on her campus, as she as known as something of a conservative firebrand. Leading up to the event, she was confronted in the library. Last semester, she was the focus of a petition to have her expelled.
She said what she experienced Wednesday was something new.
"I'm used to getting the backlash. I've never been scared," she said. "When I was running up the stairs to the janitor's closet, it was terrifying. When I got into the janitor's closet and the light was turned off and I heard shrieking in the hallway, I feared for my life."
Editor's note: Updated to include statement from UNT president. 
MORE: Hostile students shout down law scholar who criticized affirmative action
IMAGE: Twitter screenshot
Like The College Fix on Facebook / Follow us on Twitter