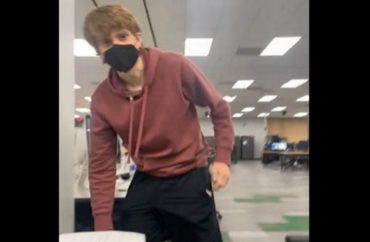 UNT president calls views 'intolerant'
A video taken by a well-known and outspoken conservative student at the University of North Texas has gone viral, leading to her being cyberbullied and doxxed and prompting the campus president to weigh in.
Senior Kelly Neidert, the past-president and a current member of the UNT chapter of Young Conservatives of Texas, filmed the video Feb. 16 in the campus library.
The 39-second video captures an unnamed male student packing up his things while calling her and her group names, using profanity, and walking away.
"Y'all pretend to be Christians. Y'all aren't even Christians. Get the f**k out of here," the student said.
Although the word "transgender" is not part of the video, which has been viewed well over 1 million times, Neidert told The College Fix the student was peering at her and her friend's library computer screen and mumbling "what the f**k is that" and "what the f**k is wrong with y'all?"
A student at my university (University of North Texas) saw me and a friend printing flyers for our conservative club- he had a meltdown and stormed out of the library screaming at us. pic.twitter.com/O17BT0M28q

— Kelly (@kelly_neidert) February 17, 2022
The student's anger apparently stemmed from an advertisement for a YCT meeting scheduled for Feb. 23 set to feature Jeff Younger, well known as the Texas father who fought his ex-wife over their young child's gender transition in court. He is currently running for a Texas statehouse seat.
The event is slated to take place despite the current uproar the video has created among the campus community, Neidert said, adding students have plans to protest it. Asked why she believes administration has not canceled the Younger event, she said it's because they know they'd be sued if they did.
As for the YCT advertisement, the male student in the video must have overseen it as she and her friend scrolled through their Google Drive, she said.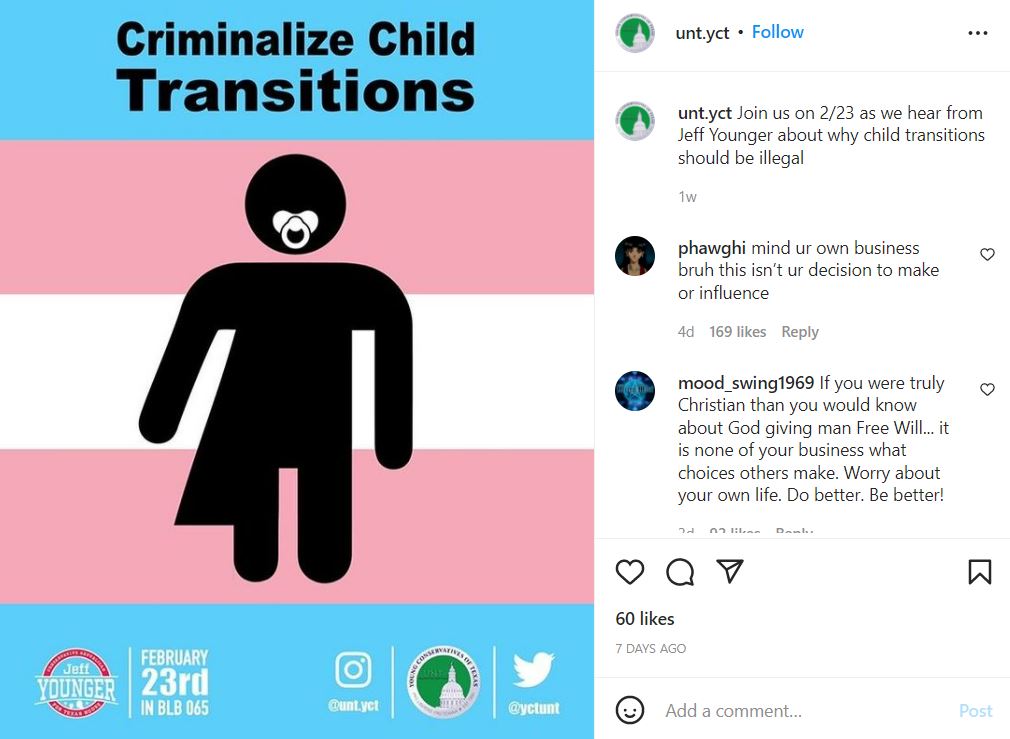 It features the light pink and blue transgender flag colors, a male-female symbol with a pacifier, and the words: "Criminalize Child Transitions."
That image was not among what Neidert and her friend were printing out at the time, they were simply discussing it; she said they were there to print out other recruitment flyers.
Nevertheless, the upset student must have seen the transgender imagery on the computer screen, she said.
In the video, he called Neidert a "fake ass Christian" and also makes fun of her appearance. "Too much makeup b*tch," he said while walking away.
Neidert said that prior to filming the incident she had not engaged with the student, who she does not know. As for how he knew she is a Christian, Neidert said her chapter has been known to post Bible verses.
On Feb. 22, UNT President Neal Smatresk published a statement regarding the controversy.
"I know the last several days may have felt particularly difficult for the transgender members of our community, due to the intolerant views of a handful of campus members," Smatresk said.
The statement links to multiple resources available to students who need a "safe place to heal and grow your support system."
But it stops short of silencing free speech.
"Regardless of who we are or where we come from, we always will encounter people who disagree with us, or do not accept us. Here on our campus, we honor our First Amendment rights, even when we don't agree with others' opinions," the president said.
In response, Neidert said that the "only diversity UNT cares about is diversity of race, not diversity of thought. Neal is referring to our 'Criminalize Child Transitions' flyer as 'intolerant,' but most conservatives agree with that statement."
The College Fix reached out to the University of North Texas media affairs division and President Smatresk for comment, but did not receive a response.
Neidert is known as something of a firebrand conservative and does not back down to threats or intimidation. For example, she was the target of a petition to have her expelled last semester. Launched in October, it has nearly 10,000 signatures.
She said this latest incident is typical, noting "it is common for people to just flip me off or make a rude remark if they see me walking around campus."
"Students have also started posting on the app YikYak if they see me on campus so other students know to avoid the area or to go bother me."
However, this latest incident has been pretty extreme, she said, calling it "exponentially worse than I've seen before. I am used to it, just not used to this extent."
The aftermath of trying to print conservative flyers at my school library pic.twitter.com/Ko9wUJLXAm

— Kelly (@kelly_neidert) February 19, 2022
Student Stephen Moitz, current chair of the Young Conservatives of Texas UNT chapter, told The College Fix via text that administration does not defend center-right students or beliefs.
"It's appalling that my dear friend Kelly would be harassed like this, and UNT won't stand up for us," Moitz told The College Fix. "Conservatives are treated like this all the time on campus, all because we stand up for what we believe in."
Moitz added that people like the student in the video "hate us before they even talk to us."
"It's a shame, and behavior like this needs to be addressed. This is what it's like being conservative on a college campus, harassment like this happens to us all the time."
Since this initial incident, Neidert has received even more harassment and bullying on campus.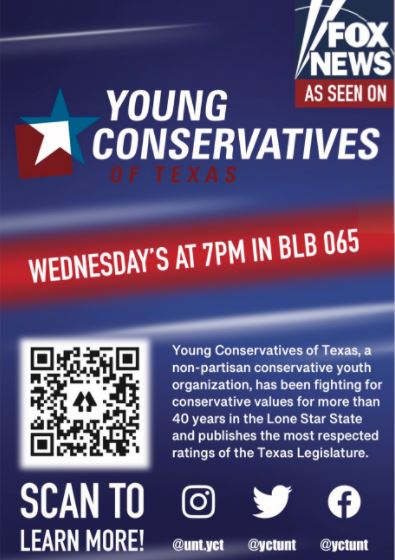 This might be due to the fact that one of the top comments on her tweet with the video wrongly alleged she wanted to print flyers stating "ban transgenders." (Pictured: The flyer actually printed.)
"Crazy how you'd like to ban transgenders when you'd actually look better as a man," reads one direct message sent to Neidert.
Another reads "ugly fat racist fake Christian weirdo is what you are." Following this message, the same user sent, "I'm a real Christian we do NOT discriminate."
Neidert also told The College Fix her address was recently doxxed.
In the past, Neidert was the target of a witch's spell, who sought to put some sort of hex on her in July 2020. In March 2021, the YCT club was attacked for its Bible verse Easter egg hunt.
She said Tuesday she has no plans to back down.
"I just want them to know we are not going anywhere," she said. "They can be as mean and hateful as they want, but I am going to stick up for myself and others and be a conservative voice on campus."
MORE: Witch joins effort to take out conservative students at UNT
IMAGES: screenshots
Like The College Fix on Facebook / Follow us on Twitter