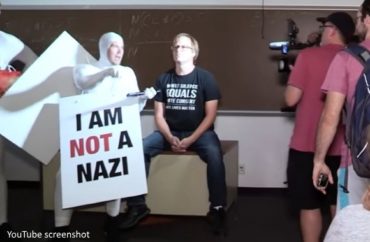 Scholar accused Crowder of making death threats
Stephen Crowder, a popular conservative comedic YouTube personality, confronted a lecturer of philosophy and logic in his own classroom last Friday after the scholar accused him on social media of being a Nazi. The scholar had also alleged Crowder threatened his family, claims Crowder categorically denies, calling the accusations slanderous.
Crowder performed a show in March at Southern Methodist University in Dallas, Texas. In response, University of Texas-Arlington philosophy lecturer Charles Hermes used social media to call Crowder an "alt-right Neo-Nazi," and accused him of calling for the "murder and extermination of Jews and LGBT people." The scholar also allegedly created fake tweets and attributed them to Crowder.
According to a video Crowder posted Tuesday, he had his lawyer sent a request to Hermes to delete the posts. At the time, the lecturer refused, and instead took to social media and accused Crowder and his followers of threatening him and his family. The scholar reportedly claimed the threats included death threats and that Crowder directed his followers to the professor's house. Crowder denies this.
To resolve the situation, Crowder contacted the school about the professor's posts, according to the video. But campus officials stated support for the professor, who had also been in the news for harassing conservative students on campus, shouting "no fascists" at them.
As a last resort, according to Crowder, he dressed up in a bright-white spandex skin suit and wore a large A-frame sign saying "I am not a Nazi" and descended on Hermes' classroom to confront him on Friday.
The professor, wearing a "White Silence Equals White Consent–Black Lives Matter" T-shirt, told Crowder he had made death threats against the professor's son and accused Crowder of trying to get him fired, according to the video.
Crowder asked the professor when he had made those threats. One individual in the class responded "Right now. You just did it right now." According to the footage, Crowder did not make any threats to the professor.
"This is the guy teaching you logic and how to deal with truth," Crowder told the audience, after the professor refused to admit that he had fabricated the offensive tweets. Crowder also mentioned that he had invited the professor to an open-forum debate on multiple occasions, but that the professor declined the invitations.
The professor dismissed the class and led Crowder to an administrative office, where he was told to leave campus. Campus police officers escorted him out.
Crowder and his entourage were given criminal trespass warnings, effective for one year, the Shorthorn campus newspaper reports. Hermes has since deleted Facebook posts about Crowder, the newspaper also reported.
"On this channel, civil discourse is always the first choice," Crowder said to conclude the video. "But if you make threats, calls to violence, or repeatedly abuse your power to lie to your pupils and refuse to admit the truth, I will find you, I will expose you, and I will shame you."
IMAGE: YouTube screenshot
MORE: Professor refuses letter of recommendation for semester in Israel
Like The College Fix on Facebook / Follow us on Twitter