A Southern California teacher's online rant has been recorded and published by Reopen California Schools, a group dedicated to fully reopening the state's public schools.
In the edited video posted Sunday night on Twitter, the group identifies the teacher as an employee of San Marcos Unified School District, tweeting the recording shows her "going off on students and their parents over distance learning and other issues."
Newly released video of a @SanMarcosUSD HS teacher going off on students and their parents over distance learning and other issues. Originally posted to FB. Apparently this is a common occurrence. pic.twitter.com/pjEN80kLNh

— Reopen California Schools (@ReopenCASchools) April 12, 2021
Reopen California Schools notes in its Twitter thread on the video that the teacher supports keeping schools largely online amid COVID as parents and others demand schools reopen, even taking the matter to court.
"Attorney for @SanMarcosUSD argued Thurs in court the district was negotiating to expand in-person instruction. Instead, union & district agreed to not change, enforcing 6 ft spacing limiting in-person time. CDC & CDPH allow 3 ft. On Fri, union posts members celebrating at 0 ft," the group tweeted.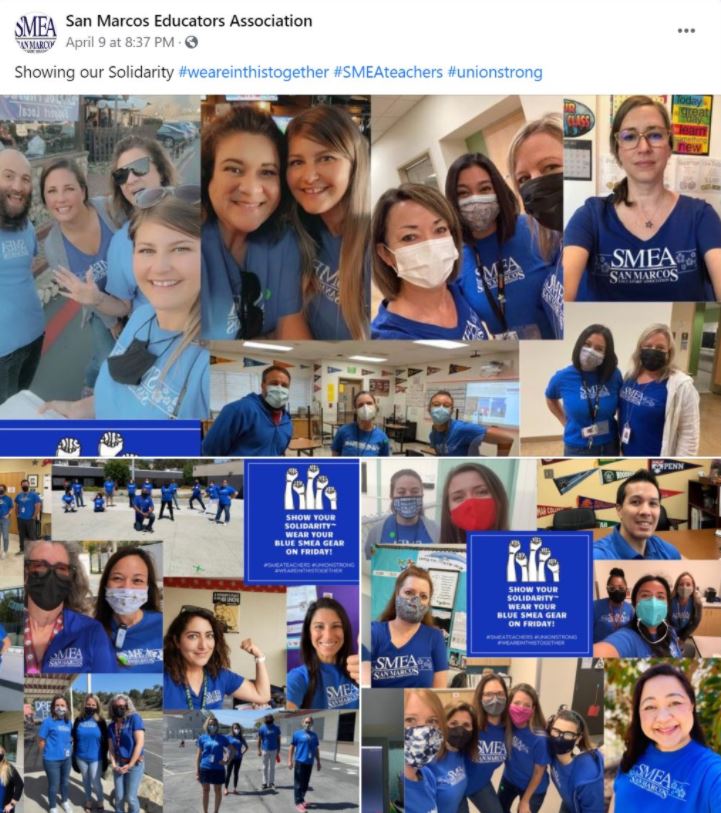 The group then posted a picture of the teacher in the video celebrating on social media the decision to remain mostly online.
"This same teacher is celebrating the half-baked hybrid plan as providing 'small class instruction,'" the group tweeted. "Is that the end game? Cut educational minutes to a fraction of what they were before in the name of 'smaller class sizes?'"
The video consists of two parts. The first shows her berating the idea of a "white student" group. The second part shows her saying she has never gone into other people's places of business and told them how to do their jobs:
"[I]f your parent wants to come talk to me about how I'm not doing a good enough job in distance learning based on what you need as an individual? Just dare them to come at me. Because I am so sick to my stomach of parents trying to tell educators how to do their job."
Fox News reports the teacher in the video is San Marcos High School English teacher Alissa Piro.
"A mother of a student in Piro's class told Fox News that she brought the videos to the attention of the school principal Adam Dawson several weeks ago. Dawson agreed that Piro's behavior was 'inexcusable' and vowed to address it, but failed to follow up. Dawson did not immediately return Fox News' request for comment," it reported.
MORE: Stanford snowflakes meltdown over April Fools' joke 
IMAGE: YouTube screenshot
Like The College Fix on Facebook / Follow us on Twitter