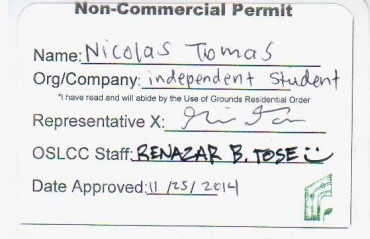 An animal rights activist at California State Polytechnic University-Pomona is suing the school for making him get permission to hand out flyers and confine his activity to the school free-speech zone as a condition of his campus activism.
The Foundation for Individual Rights in Education, which is assisting Nicholas Tomas with the suit through its Stand Up for Speech litigation project, explains the situation:
The lawsuit alleges that on February 4, a Cal Poly Pomona police officer stopped Tomas from handing out flyers on a campus sidewalk. The officer directed Tomas to the Office of Student Life to obtain a "permit," namely a badge that he would have to wear while distributing any written material. Furthermore, he would be confined to Cal Poly Pomona's tiny "free speech zone"—a patch of turf that makes up less than 0.01 percent of campus.
You're kind of screwed if you want to do a weekend or evening protest, FIRE says: "Badges can only be issued from 8 a.m. to 5 p.m. on weekdays, although the Office of Student Life pledges to 'work with' any student who wishes to engage in expressive activity on evenings or weekends."
Here's an example of the badge. The smiley face is a nice touch.
FIRE President Greg Lukianoff called the rules a "cartoonish violation of the First Amendment, almost beyond parody," and said it "discourages students from engaging with the campus community on the issues they are most passionate about."
The group said it warned Cal Poly Pomona last fall, along with more than 300 public colleges with unconstitutional speech codes, that it could get sued if it did not fix the code, and followed up with schools in the 9th U.S. Circuit Court of Appeals jurisdiction earlier this month, but Cal Poly Pomona didn't respond.
Boston College, a private school, is going through a similar controversy over its crackdown on unauthorized posters reading "This Poster Is Illegal" that were plastered around campus.
An administrator at the school pointed to "irony" in that the group he accused of being behind the posters had been given a permit for a rally the following day.
Like The College Fix on Facebook / Follow us on Twitter
IMAGE: Foundation for Individual Rights in Education