UPDATED
Drop the dreads and don't dress like crazy people
Wesleyan University students worried that they might get punished for wearing an offensive Halloween costume can relax.
An administration official promised The College Fix in an interview this week that a school-designed poster displayed around the student center is only meant to spur conversations, not crackdowns.
First publicized by Inside Higher Ed, the poster was created by the Student Activities and Leadership Development (SALD) office. Its headline reads "Halloween Checklist: Is Your Costume Offensive? Check yourself and your friends."
It features the office logo and encourages students to contact several university offices, including Equity & Inclusion and Religious & Spiritual Life, to get a better idea of whether their "costume might be offensive."
Costumes that include dreadlocks, afros, or representations of "an entire culture," or which "trivialize human suffering, oppression, and marginalization," are immediately suspect, according to the poster. It appears to rule out mad scientists, prisoners or homeless people as costume subjects.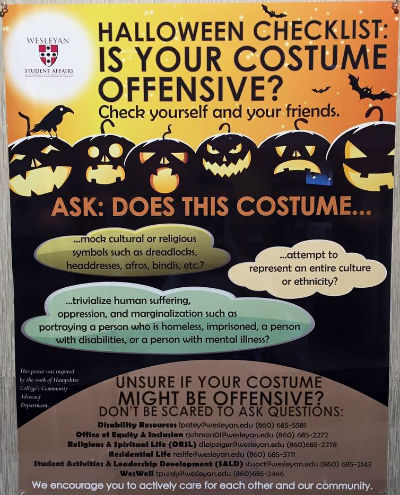 "The intent of the poster was to generate conversations about social justice, stereotypes, and how we project ourselves during Halloween," SALD Director Elisa Cardona, who was responsible for the poster's creation, told The Fix in her office.
Asked whether Wesleyan was leading students to believe they could be written up for a code violation by wearing a particular costume, Cardona emphatically denied that was the intent.
"Instead, I was hoping students would look at their costume and decide 'is this the image I want to project during Halloween? Am I comfortable with that image? Are other people going to be offended? Do I care if they are offended or not?'"
Students should exercise good judgment about what is offensive in a given context, Cardona said when asked whether students should self-censor their costumes.
"Well, think of it like this: Would we be okay with a student who decided to dress up as a terrorist right after 9/11?" she said. "We aren't trying to tell students what they can and cannot wear," but get them "to have conversations about the hard topics."
Wesleyan isn't starting from scratch. The poster was inspired by a similar effort by Hampshire College's Community Advocacy Department, and it nearly copies the design from the University of Massachusetts-Amherst.
It was also informed by a 2009 column written by journalist Amanda Hess, titled "How to Inform a Friend Their Halloween Costume Is Racist."
Now at Slate, Hess seemed surprised her ideas still had traction. She told The Fix in an email: "I can't say that my thoughts on this have changed, but I also haven't really thought about this issue in many years!" She said she's more interested in hearing students' thoughts on the posters.
Hess isn't the only one who hasn't recently thought about the perils of racism and ableism at Halloween.
Most Wesleyan students shown the poster by The Fix said they were seeing it for the first time. Some didn't know it existed at all, while others knew it by reputation or a quick glance.
"I think it is important to think about whether or not we are being offensive during Halloween," said one male student, a self-identified progressive, who asked for anonymity.  "We should make sure our campus is safe for everyone."
Andrew, a progressive sophomore who requested to be identified only by first name, said he thought the poster seemed "tame" in comparison to other politically correct rhetoric he has heard on campus.
The Halloween poster is an unusual example of an administration-driven effort to discourage students from certain forms of expression.
When students stole copies of the Wesleyan Argus and tried to get the paper defunded, because they were offended by a column critical of the Black Lives Matter movement, the administration released a public letter warning that "there is no right not to be offended."
The poster isn't the administration's first effort this year to be misunderstood.
At the first town hall meeting following the Black Lives Matter furor, a SALD staffer, Bulaong Ramiz, repeated a student's statement ("white cis men … should listen instead of speaking") so the entire room could hear. (Cis refers to a person identifying with his birth sex.)
She was trying to ensure that everyone had the chance to speak and no one dominated the conversation, but her words projected a different message to some people at the town hall.
Some perceived that they were being told they couldn't and shouldn't speak during the discussions. "'I'm white, I should shut up, listen, and take the abuse'" was how one student described his reaction to Ramiz's words.
CORRECTION: Bulaong Ramiz was quoting a student who said "white cis men … should listen instead of speaking." The quote was incorrectly attributed to Ramiz herself in the original story, which has been amended. 
Like The College Fix on Facebook / Follow us on Twitter
IMAGE: Elnur/Shutterstock