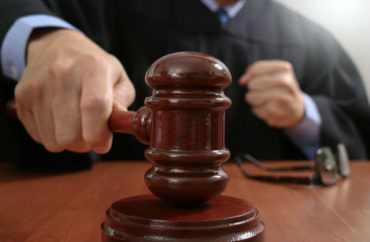 Only lawful punishment would be for unauthorized posting – if enforced consistently
The University of Connecticut legally endangered its administrators and police by launching a sweeping investigation to identify and arrest students who shouted the N-word in a parking lot last month.
Western Connecticut State University administrators and police seem intent on following the same script, despite the pushback against UConn from the legal community.
President John Clark asked for the community's help Friday in identifying people who distributed "hate filled flyers and inscriptions on our university property" on Thursday.
The flyers included the unadorned statements "It's OK to be white" and "Islam is right about women," a spokesperson told the Hartford Courant. They were "typed and printed on white paper" and "left around a residence and classroom hall" on the midtown campus in Danbury.
"I wanted to assure you that a full scale police investigation is underway," with assistance from the FBI, state police and municipal police, Clark wrote Friday. Surveillance footage is under review and people "who may have witnessed any of this despicable and utterly unacceptable behavior" are being interviewed.
Any WCSU community members identified as involved with the flyers – whose content Clark never mentioned – "will be subject to the severest disciplinary actions, including dismissal as well as possible civil and criminal actions," the president wrote. He was not shy about using adjectives to describe the unnamed flyers – "disgusting," "hateful," "virulent," "sick and outrageous."
MORE: UConn officials risk legal liability for punishing N-word students
The messages on the flyers "are of course fully protected by the First Amendment" regardless of how offensive they are, according to UCLA Law Prof. Eugene Volokh, a First Amendment expert who previously poured cold water on UConn's aggressive response to the N-word shouts.
In a blog post Monday, Volokh said he confirmed with the university that the only messages concerned white people, Islam and women. It's not even clear that the latter message was "meant (or will likely be understood) literally," but in any case, any of the conceivable meanings of "Islam is right about women" are "constitutionally protected," he said.
Unmentioned in President Clark's vague statement or Courant report, but conveyed by the spokesperson to Volokh, was an "alt-right flag" attached to a classroom building window, but even then the content of the flag is constitutional.
The law professor sees only one route for WCSU to punish whoever posted the flyers and flag, and it's a narrow one:
I should note that, if the school has content-neutral rules forbidding posting any material in classroom building windows, leaving flyers on university property, or posting them in places other than designated bulletin boards, those neutral rules could be enforced in this situation, if they are evenhandedly enforced against others who violate the rules, regardless of viewpoint.

But I very much doubt that violating any such rules normally leads to expulsion, criminal prosecution, or even police investigation. And it seems quite clear from the University's statement that the objection isn't to littering or posting that violates such rules, but precisely to the message that the material expresses.
MORE: U. Iowa officials personally liable for ignoring First Amendment
If it goes through with punishing community members for posting the flyers and flag on any grounds other than unauthorized posting – which could not earn "the severest disciplinary actions" – Clark, police and other officials are opening themselves to personal liability for constitutional violations.
Governmental actors such as WCSU police and administrators enjoy "qualified immunity" from liability only when they violated rights that were not "clearly established" in case law at the time. (It's a judge-made doctrine that has drawn scrutiny in legal circles and some courts, including from Supreme Court Justice Clarence Thomas.)
The First Amendment rights of members of a public university – even when they communicate messages that are highly offensive to the community – are clearly established. And as Volokh notes, the university's communications about the materials and the outsized police response make plain that officials want to punish the perpetrators for the content of the materials, not their potential violation of consistently enforced posting rules.
The College Fix has asked WCSU media relations whether the university is concerned that officials and police could be held personally liable for First Amendment violations by punishing any community member who was involved, and how it justifies a law enforcement or school disciplinary response to constitutionally protected speech.
The university could have taken a page from Pennsylvania's Susquehanna University, one of several schools to be hit by "It's OK to be white" posters late last week, a year after a similar barrage.
The private university, which unlike WCSU is not bound by the First Amendment, did not threaten to identify, arrest, prosecute or otherwise punish those who posted the flyers, PennLive reports.
President Jonathan Green told the community that the posters "violated campus policies" but did not constitute "hate speech," even if the message "has been associated with white supremacy movements":
"Our concern is that this action is believed to be associated with indirect recruiting tactics for these malicious organizations," Green said in the message.

"We encourage all members of our community to remain vigilant and report any concerning activities," Green said. "I hope this will promote conversations across campus that affirm our shared values of inclusion push back against these acts of propaganda."
Read the Courant article, President Clark's message, Volokh's analysis and PennLive report.
MORE: California State chancellor, campus president denied qualified immunity
IMAGE: everything possible / Shutterstock.com
Like The College Fix on Facebook / Follow us on Twitter