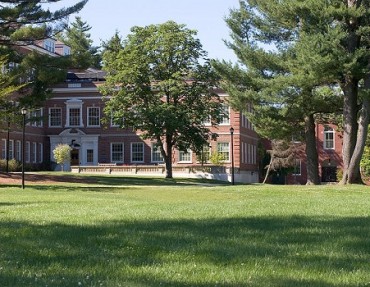 On July 19, 2009, Edward T. Larkin, a professor of German at the University
of New Hampshire, drove his motorcycle down Route 101 to the Market Basket in Milford. He pulled into the parking lot behind a car in which a 17-year-old girl was driving her mother. Larkin parked and dismounted.
As the woman and her daughter got out of their car, they looked over at Larkin, who was standing nearby in a black and yellow jacket. His zipper was down and his penis was hanging out.
After his arrest for indecent exposure, Larkin was placed on paid administrative leave. The following spring, he pleaded guilty to a class B misdemeanor, paid a $1,000 fine and was ordered by the court to undergo a psychological evaluation. Larkin was not required to register as a sex offender.
After the guilty plea, the university's president, Mark Huddleston, sought to fire Larkin. While Huddleston expressed concern that even a minimal risk of a repeat offense was too much to bear, his administration also argued that the professor's conduct — and the widespread media coverage it generated — had damaged the university's reputation, which, in turn, would hurt UNH's ability to attract students and raise money. "Reputation is all we have," Huddleston said during a hearing on the matter.
Read the full story at Inside Higher Ed.
Like The College Fix on Facebook / Follow us on Twitter