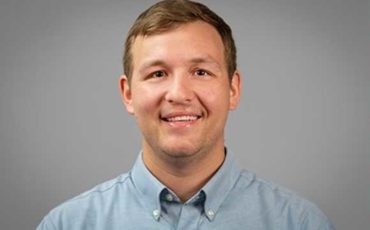 Plaintiff alleged comments by his dean expressed 'hostility' toward his identity
A former professor at the University of South Florida is suing the university's Board of Trustees for over $100,000 in damages, alleging bias and discrimination.
Andrew Bugajski (pictured), who worked for the College of Nursing, stated that Usha Menon, dean and senior associate vice president for USF Health, discriminated against him with derisive identity-based comments and "hostility."
As a result, he "suffered damage to his professional and personal reputations," "mental anguish," and lost income, according to documents filed in Hillsborough County court.
Bugajski said he was "forced to resign" in May 2021 after nearly three years' employment at the university because of how he was treated, Florida Politics reported. The news site reviewed the court filing but did not include a copy of it in its reporting.
The USF Health website still lists Bugajski as an assistant professor in the College of Nursing as of June 7.
His lawyer, Christiane Nolton, wrote that soon after Bugajski had been hired, he began to notice Menon "exhibiting hostility towards Caucasian men" like himself.
The College Fix reached out to Nolton via email and phone but has not received a response in the past three weeks. The Fix asked for a copy of the lawsuit and comment.
Menon told Bugajski and others that upper administrators at USF were a "bunch of f***ing white male conservatives," according to Florida Politics.
Menon has not responded to inquiries from The Fix asking for her response to the allegations.
MORE: Lawsuit against UCLA alleges race-based grading request 
Bugajski also claimed that Menon planned to "push out or fire" the director of business and administrative services, who is also a white man. Menon allegedly referred to him as "creepy," "stupid" and "incompetent."
Throughout Bugajski's employment at USF, he and Menon frequently collaborated on research projects together.
Althea Johnson, a spokesperson for USF, declined to comment on the litigation and answer questions from The Fix.
Although Menon did commend Bugajski for his "noteworthy achievements," she stated that Menon still "openly held a deeply rooted disdain for Caucasian men." Additionally, Menon would sometimes make comments directed specifically at Bugajski, according to Florida Politics.
Such comments allegedly included "no offense, you're a White man and you don't get to weigh in on this" and "you're a man, you don't understand."
The Fix reached out to Bugajski to ask about the extent to which his personal and professional reputations had been damaged as a result of the discrimination he faced, and whether there had been any updates on the lawsuit, but he has yet to respond in the past few weeks.
MORE: White professor files racial discrimination lawsuit
PHOTO: Facebook/USF College of Nursing
Like The College Fix on Facebook / Follow us on Twitter