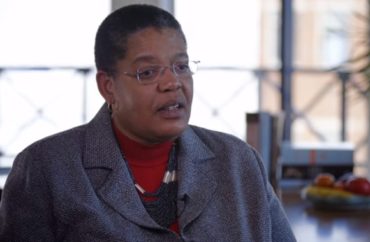 Accused of creating intimidating environment as head of HR
Last month we told you that Harvard School of Public Health faculty had called off a no-confidence vote against their dean partly because of the "optics" of criticizing a black woman.
One of the gripes against Michelle Williams concerned her second-in-command, Michael Grusby, who holds three administrative posts, including overseeing human resources.
Unnamed faculty and staff said they didn't feel comfortable bringing HR complaints because of Grusby, who they said has a habit of "demeaning and disrespectful treatment" toward them.
Rather than face a reckoning down the road for the "toxic culture" they allegedly created, Williams (above) and Grusby (below) have found a solution: no more Grusby.
The Harvard Crimson reports that the white male administrator has stepped down from all three non-faculty roles he held: executive dean for administration, acting dean for academic affairs and senior vice dean for institutional planning and policy, the third one created under Williams' deanship.
Grusby remains a professor but he's going on sabbatical this month, Williams said. (Nothing has changed about Grusby on his Harvard page as of Friday afternoon.)
Williams gave no explanation for Grusby's sudden exodus in an email to the community, simply praising his "significant contributions to the leadership of the Dean's office" such as millions in savings from reducing compliance risks.
MORE: Williams avoids no-confidence vote due to fear of 'optics'
"Michael has been a valued colleague, offering knowledgeable insights, wise counsel, and successful, effective implementation strategies," she wrote.
Williams only mentioned replacements for two of Grusby's three roles, the ones that existed before she took over, according to the Crimson. Prof. Jane Kim is taking over as permanent dean of academic affairs and Chief Financial Officer Katie Hope is filling in as executive dean for administration, per William's email.
Alleged faculty at the public health school reached out to The College Fix following our January post, seeking a journalistic investigation based on wide-ranging claims of racism and political harassment, but declined to identify themselves for verification purposes.
The culture of the public health school leaves "no place" for anyone but the "Woke left," said an email from the alleged faculty group: "Moderates (let alone conservatives) [are] harassed for speaking up."
Regarding Williams getting a pass from a no-confidence vote, the reality is that "her identity trumps any level of incompetence or horrible behavior," the email said.
The person or group behind the email has not responded for three weeks to a request to refer alleged faculty who went to HR with complaints about Grusby to The Fix for interviews.
MORE: 'Play the race card' to squelch faculty critics of black president
IMAGE: Harvard University/YouTube
Like The College Fix on Facebook / Follow us on Twitter