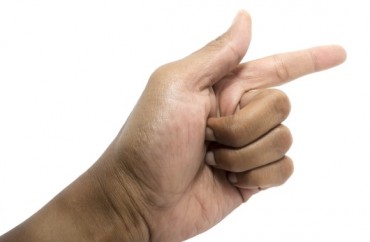 A white student at the University of Massachusetts-Amherst who recently attempted to attend a "Stop White People" multicultural campus luncheon was essentially turned away when he arrived.
The student had tried to attend the event at the request of The College Fix, which sought to ascertain the type of ways in which students might "stop white people," and from doing what, exactly.
"Come join fellow students of color at MOBs first #StopWhitePeople2k16 Luncheon at 11 a.m. in the CEPA office," was the way in which the Nov. 4 event was advertised on various social media platforms such as Twitter and Facebook.
MOB, which stands for Multicultural Organizing Bureau and uses the nickname "MOBsters," describes itself on its Facebook page as "a core
team of the Center for Education, Policy, and Advocacy primarily focused on issues of diversity and inclusion with an emphasis on the intersectionality of systemic violence."
"We would like the administration of UMass Amherst to recruit and retain more students of color while simultaneously committing to real and lasting change in the way the university treats marginalized students," the description adds. "We would like the students of UMass to have a greater awareness of the ways in which racism and other forms of oppression are perpetuated both by individuals and institutions."
Members of MOB did not respond to an emailed request for comment by The College Fix. A campus spokesman said Thursday he would look into the situation but has yet to respond to follow-up emails.
According to an audio recording of the student's arrival at the luncheon, after he entered the room at about 11 a.m., he noticed he appeared to be the first to arrive. An Asian female student, the only other person in the room, greeted him and he said, "Hi I'm here…"
"Can I help you?" she replied.
"Am I in the right room?" he asked.
"Room for what?" she responded.
"For the meeting, the #StopWhitePeople2k16," he said.
"It's not a meeting," she replied.
"Oh, it's just a group? I was hoping to see what it's about to see if I was interested."
"Honestly it's like a social hour, it was a joke," she said.
"Huh, alright," he said.
"It was like a, yeah you know," she added.
"No worries, I appreciate it. Thank you," he said and left the room.
The student, who asked to remain anonymous, told The College Fix that he felt the female student was clearly annoyed with his presence and her comments to him were curt. He said he was not physically forced to leave, and there was no explicit request to do so, but she made it uncomfortable for him to be there.
When used on Twitter, the hashtag #StopWhitePeople2K16 is often used for comedic effect to poke fun of people with white skin. For example:
#StopWhitePeople2K16 let's get this started early https://t.co/kypz2Qp6Mt

— Trill (@FlyHighWithRyan) November 3, 2015
Basically it seems to be used mostly when white people do awkward things. However, UMass' Center for Education, Policy and Advocacy is described by some students on campus as a far-left organization and may have a more literal interpretation.
College Fix reporter Nick Pappas contributed to this report.
Like The College Fix on Facebook / Follow us on Twitter
IMAGE: Shutterstock