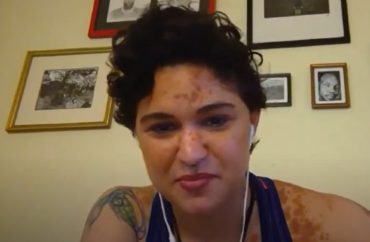 UW-Madison TA apologizes to 'comrades' for claiming to be several various ethnicities
A white teaching assistant and graduate student at the University of Wisconsin-Madison released two apologies in the past week for falsely claiming a variety of ethnicities.
It comes just a few days after Jessica Krug, a professor at George Washington University, admitted to falsely presenting herself as black, when Krug is white.
CV Vitolo-Haddad's hand was forced by an anonymous Medium post on September 4 that appeared to out the former teaching assistant. The post included screenshots of social media posts and recollections of conversations where Vitolo-Haddad claimed various ethnic backgrounds.
Vitolo-Haddad resigned from a teaching assistant position and as co-president of the Teaching Assistants Association at the public university. Vitolo-Haddad has claimed Cuban, Ethiopian, North African and "Afro-Latinx" lineage at various times, according to Inside Higher Ed.
Vitolo-Haddad is actually white and the family is from the Sicily region of Italy.
This summer, "Vitolo-Haddad described themself as 'italo habesha,' meaning of Italian and Eritrean or Ethiopian descent," according to Inside Higher Ed, using the teaching assistant's preferred pronouns.
"To my dear friends, loved ones, and organizing comrades," Vitolo-Haddad began the September 6 post on Medium.
MORE: Professor investigated for pretending to be black resigns
"I am so deeply sorry for the ways you are hurting right now because of me. You have expressed confusion, shock, betrayal, anger, and mistrust. All of those things are a consequence of how I have navigated our relationships and the spaces we share."
Vitolo-Haddad admitted to taking "some very wrong turns" and said the resulting harm "is a result of my lack of courage, a preference for being vague and contradictory, uncertain and insecure."
A second apology letter on September 8 goes into more detail but blames the former teaching assistant's family:
I am Southern Italian/Sicilian. In trying to make sense of my experiences with race, I grossly misstepped and placed myself in positions to be trusted on false premises. I went along with however people saw me. I over-identified with unreliable and unproven family history and latched onto anything I remembered growing up. All of those actions were deeply misguided and have caused an incredible amount of hurt for the Madison community, those I organize with, and everyone who has been exposed to this public reckoning. It was my choice and error to identify any differently.
The teaching assistant apologized for entering "Black organizing spaces."
"Additionally, I want to apologize for how my failure to own up to these harmful decisions publicly made every conversation on social media about the varied ways I've been racialized a source of confusion and deception," Vitolo-Haddad wrote.
The anonymous author of the accusations is concerned that his post will hurt African-Americans, however:
I made this post for the primary purpose of informing Black communities about CV's behavior, so that they may make their own decisions about self-protection and whom to allow in their spaces. Frankly, I agree with those who have stated that the disproportionate attention given to white people who commit race fraud pulls focus and energy from the much more important, urgent work, in both scholarship and political organizing, that actual Black folks are doing.
Read the full accusation article.
MORE: Professor blames 'white Christian privilege' for slavery and genocide
IMAGE: Luke Ford / Youtube
Like The College Fix on Facebook / Follow us on Twitter