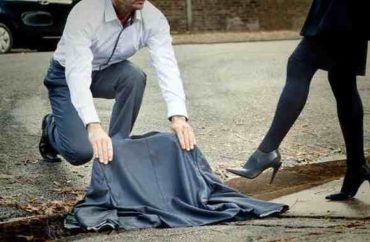 UPDATED
In support of Black History Month, the Yale student government sent out an email with suggestions on how non-people of color can contribute to "Black joy."
The Yale College Council's first tip is to "politely" allow black students to jump ahead of you when lines at the dining hall are too long.
The second suggests taking off your coat and placing it over a sidewalk puddle so "your Black friends can walk with ease."
The third asks for support of black-owned businesses in Yale's hometown of New Haven, Connecticut.
According to the Daily Caller, the email also asked students to sign a petition in support of "inclusive healthcare" — it demands the Yale Health Center Pharmacy offer "free abortion pills, pregnancy tests and PEP" and a medication "for possible HIV exposure."
The College Fix asked the YCC for comment about the email, which was first brought to light by the Daily Caller's Chrissy Clark on Twitter. It did not respond.
MORE: School celebrates Black History Month with fried chicken, watermelon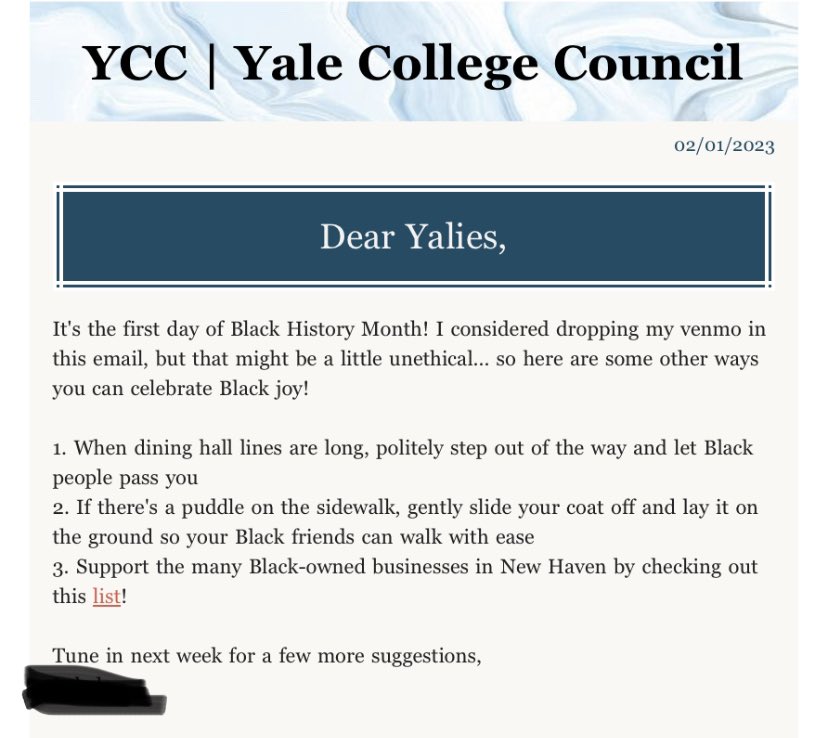 Elsewhere at Yale, the School of Management's theme for Black History Month is "Black Resistance" which "will highlight individuals, past and present, who have resisted oppression in various forms." Events include "cuisine takeovers, community mixers [and] panel discussions [on] topics including health equity and the Black maternity mortality crisis, Black Greek life [and] what it's like to be a Black PhD student at Yale."
School of Management Dean Kerwin Charles said Black History Month "is an important opportunity to celebrate the accomplishments of the African diaspora across a range of fields—including science, music, literature, art, and leadership. It is a critical part of our efforts to reflect on and address challenges of racism, exclusion, and injustice in our institution and in broader society."
UPDATE: Three days after The College Fix's inquiry, the Yale College Council responded by pointing to a "newsletter" on its website. This message claims the suggestions noted in its email were intended to "bring attention to forms of Black humor that […] often circulate" during Black History Month. References included actress/comedian Issa Rae "and […] popular satirical videos."
The YCC points out, however, it is "cognizant that students come from different backgrounds" and they may not have picked up on the humor. It also says any email sent by its organization "is not intended to be instructional."
MORE: Black student complaint about Black History Month menu gets black employees canned
IMAGES: Mizz Lizard, Chrissy Clark/Twitter screencaps
Like The College Fix on Facebook / Follow us on Twitter