OPINION: Some atheists and Christians on campus bristle at upcoming joint appearances by noted Christian apologist and famous atheist philosopher
As president of Ratio Christi, an apologetics-evangelism organization on 150 campuses nationwide, I have faced my share of atheists and those on the left hostile to my faith. This is unsurprising, even expected.
What isn't expected, and is downright surprising, is facing it from those within the faith.
But it's becoming a more frequent occurrence as the number of progressives swell among Christian campus ministries and churches.
Consider this: I was recently disinvited as a speaker by one campus ministry (not my own) because I wrote something on Facebook that might be deemed offensive.
Yes, you read that right: I. Was. Cancelled. By. Christians.
I wasn't even told what exactly I wrote that upset someone.
Given my role as the leader of a nationwide campus ministry, I can say with certainty that many traditional Christian campus groups are facing challenges as progressive ideologies foment within their ranks.
But we are still meeting people where they're at — and even broadening our scope with the help of an unlikely ally.
I was recently invited by hardcore atheist philosopher Peter Boghossian to lecture in his atheism seminar at Portland State University. (You can read about my experience here.)
While traditional campus ministries and some churches fear discussing politically charged issues—even when the intent is to generate more light than heat and to express truth in love—I'm finding camaraderie on certain levels with some non-believers in academia that I lack with many believers in academia, campus ministries, churches and seminaries.
Professor Boghossian, who is under fire from the extreme left, is calling this the great realignment and denoting the battle we're facing, including atheists and evangelicals together, as "Culture War 2.0."
He and I will be uniting very soon on four universities early next month in Utah to discuss the death of intellectual diversity in the university, sharing how elements of "social justice" and "identity politics" are destroying the bedrock of the university itself.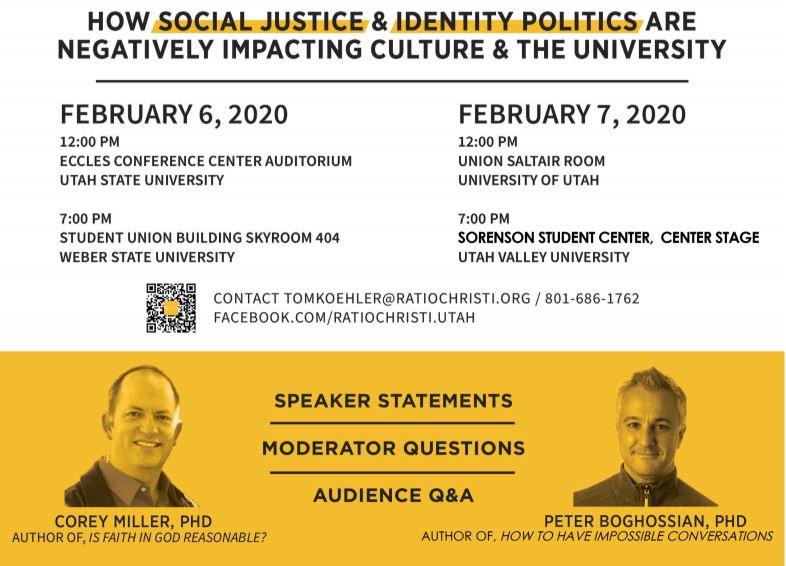 A culture that prides itself on servicing and acquiring superficial diversity, but that excludes the most important part relevant to a university—intellectual diversity—is a bastion for an echo chamber and political correctness.
And that brings us back to cancel culture, as some campus groups — both atheist and Christian — are hesitant to openly support or endorse our upcoming speaking events at Utah State University, University of Utah, Weber State and Utah Valley University.
From my end, I've found a hesitancy from some Christian campus ministries to help plug this venture.
And when I asked Boghossian if he could reach out to some of the secular student organizations on campuses to help promote the events, he told me: "All of the remaining atheist organizations are woke and they all despise me. They wouldn't even hold the door open for me nevertheless advertise one of my events."
We may disagree on many things, but one thing we can unite on is this: free speech and intellectual diversity. We could use folks in both our camps to get behind this.
MORE: Why this well-known atheist professor invited a Christian apologist to class
Like The College Fix on Facebook / Follow us on Twitter