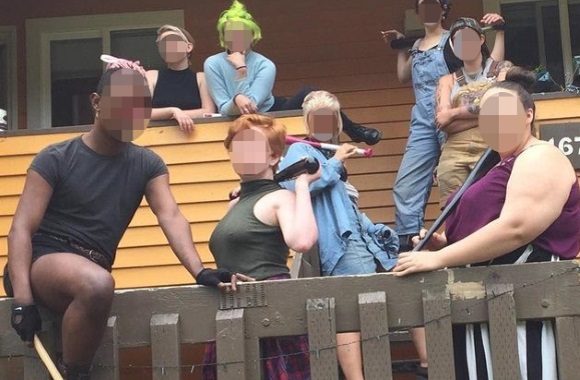 Publicly-funded schools must be places of learning, or else
Coming up through public schools, one refrain that kids sounded over and over again was, "Why do we need to know this?"
Students expected the teachers to explain or to grovel. I always secretly wished a teacher would throw that back in their faces, just one time.
Something along these lines:
Perhaps one of you could tell the class all that you will need to know for the next, oh, let's say, 60 years of your existence.

Please, approach the board and spell it out.

What broad categories of knowledge will you need?

What specific skills will you need?

What knowledge will you need to navigate your future career, your life, your hobbies?

Please be completely comprehensive, so that we teachers can help to equip you for you life.

No takers?

Well then maybe you don't know what you'll need to know and some of what we're about today could come in handy and you really can't say otherwise.

Sit down. Let's proceed.
And speaking of ignorance, Washington state, my home, has a school called Evergreen State College that is in deep trouble.
It is hemorrhaging enrollment and recently had all three candidates for president say no thanks, we don't want the job.
In the end the college may "merge" with another school, if another school will have Evergreen students. Which I would not advise.
Among other things, Evergreen students took the school's president hostage in protest of a white biology professor who wouldn't observe an unofficial "day of absence" and nope out on his classes in 2017 over activist demands.
Evergreen students occupied the president's office, with him in it. He had to ask permission to use the bathroom.
There was no great principle at stake in the students' occupation. The enrolled activists simply wanted power and they wanted to use it to make sure they didn't have to hear what anyone else had to say.
Evergreen students were lucky I was not in the legislature at the time. I would have introduced a bill to close the college, remove all its buildings from the earth, and salt the earth as a warning.
It's a fair bet that bill would have had co-sponsors. After all, bills actually were introduced in the legislature to phase out funding for the Olympia-based college and ultimately sell it off.
With the student protests and the administration's capitulation, what they were collectively saying is, "This is no longer a place of learning. We know what we need to know and we will tell you what to do. Do not attempt to reason with us."
And what an increasing number of would-be students there have said is, "Duly noted, we'll apply elsewhere." The number of enrolled students has fallen from 4,089 in the fall of 2016, before the troubles began to 2,281 in the fall of 2020.
I believe a school that is publicly funded, which Evergreen is, has a duty to be a place of learning, and that most taxpayers would agree with me on this.
If it decides that is not what it wants to be, then the representatives of the taxpayers need to step in, show faculty and students the door, and decide how to best dispose of the campus.
It would be good for this to happen to one or two schools as a warning shot across the bow to the rest of them.
Right now, leadership at public colleges believe they are safe. Unlike private liberal arts colleges, they can count on taxpayers for a lifeline in these pandemic times, and they can stand on various platitudes about the benefits of education to society and how college is part of the great ladder of mobility that pulls people out of blue collar work and into the managerial class.
If states shut down schools like Evergreen that have veered so far off of mission that they don't even know what that looks like anymore, it will send an important message to all public school administrators that they really need to hear right now.
MORE: NEW VIDEO: Madness reigns at Evergreen State College as students 'take over'
IMAGE: Youtube
Like The College Fix on Facebook / Follow us on Twitter