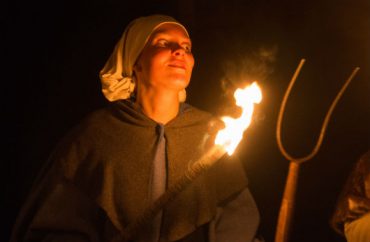 On the day following Donald Trump's election, two students from Babson College were accused of driving through the campus of Wellesley College and "enagag[ing] in actions that were 'racially offensive and gender demeaning.'"
Lawrence P. Ward, Babson vice president of student affairs, had said "It is important to understand that our students' behavior was experienced by many students of color and perceived by many others" as offensive.
Not only was the pair expelled from their fraternity, but the attorney general's office was notified of the matter.
The Boston Herald reports that now, despite "public safety probes by Babson and Wellesley not corroborating key allegations" against student Parker Rand-Ricciardi, lawyer Jeffrey Robbins says Babson Dean of Community Standards Colleen Ryan (Dean of Community Standards??) is still seeking charges of harassment and disorderly conduct against his client.
Robbins accused college officials of engaging in "a witch hunt against students for celebrating the election."
Robbins […] also wrote that Babson lawyers told him the reports "reflected a 'vast difference between the claims contained in the media and in social media' and the facts."

Robbins claims Ryan withdrew a pledge to provide Rand-Ricciardi with the public safety reports, and then scheduled and canceled a disciplinary hearing set for tomorrow.

Babson College declined to release the reports to the Herald, citing student confidentiality. …

Robbins says Ryan reversed her commitment to provide the actual public safety reports compiled by the colleges, and now says Babson will only provide a "summary" of the investigation. …

MORE: Post-election 'demeaning' behavior investigated at Wellesley

"Accused students are entitled to have their cases decided on the merits — on the particular facts of the case, set in the proper context — and not according to the application of unfair generalizations or stereotypes or because of social or other pressures to reach a certain result," Robbins wrote.

He continued, "(Babson) cannot properly punish Parker for celebrating an election, however unwelcome that celebration or how people 'experienced' it. We are talking about fundamental First Amendment rights here; a college should be the very last place that indulges, let alone actively promotes, a witch hunt against students for celebrating the election of a President who disappointed groups demanding retribution regard as abhorrent.
Apparently, a Babson official had told Robbins he/she understood where the lawyer was coming from because he/she had written a thesis "on the right of Nazis to march in Skokie."
"Respectfully, that is not what we are talking about here," Robbins had responded. "[…] that such a comparison could be drawn by a Babson official indicates that something is severely out of control at Babson, and elsewhere, when it comes to this matter."
MORE: 'Time to revisit limits on free speech' due to Trump's election
MORE: Student booted from class for disagreeing Trump election as bad as 9/11
Like The College Fix on Facebook / Follow us on Twitter
IMAGE: Hans Splinter/Flickr