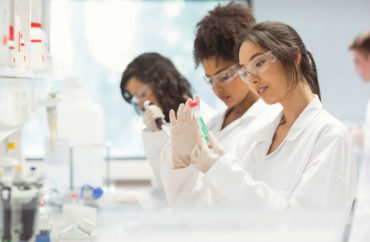 Biology blowout
The supposed underrepresentation of women in science, technology, engineering and math is a myth, at least if you're looking at the most recently available Department of Education figures.
Economist Mark Perry of the University of Michigan-Flint crunched the numbers and found that women actually earned a majority of bachelor's degrees in STEM fields that were not engineering or computer science – "biology, mathematics, and physical sciences (e.g., chemistry, physics, etc.)"
They are an even bigger majority if you include "health professions" as a STEM field with all other traditional STEM fields represented, including engineering and computer science.
The disparity is mind-blowing in biology in particular, "one of the fields in the STEM area that we hear so much about in terms of female under-representation," Perry writes: Women are 3 in 5 degree-holders.
It won't surprise you to learn that women's overall dominance in bachelor's degrees has hit the 35-year mark. As of the class of 2016, they earn just over 57 percent of all such degrees. And the 57-percent mark for women has held strong for 18 years now (including preliminary data for 2017).
These raise uncomfortable questions for educators and policymakers about whether we should socially engineer gender preferences toward parity across the board, or trust that people can choose "voluntary outcomes" that are best for themselves, even if some fields remain skewed, Perry says.
Read Perry's post at the American Enterprise Institute.
MORE: Want a job at UCSD? Confess that women face 'barriers'
IMAGE: wavebreakmedia/Shutterstock
Like The College Fix on Facebook / Follow us on Twitter