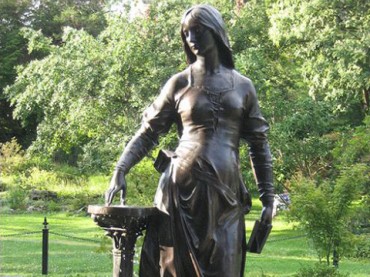 Smith College is fashionably late to transgender admissions, announcing over the weekend that it would now accept "self-identified transgender women" to the all-women's college starting this fall (following Mount Holyoke and Wellesley):
The board's decision affirms Smith's unwavering mission and identity as a women's college, our commitment to representing the diversity of women's lived experiences, and the college's exceptional role in the advancement of women worldwide.
Don't worry, Smith is still a women's college, it explains in an FAQ:
Are trans women eligible for admission to Smith?

Applicants who were assigned male at birth but identify as women are eligible for admission.

Are trans men eligible for admission?

Smith does not accept applications from men. Those assigned female at birth but who now identify as male are not eligible for admission.
In other words: Women with penises are cool, men with vaginas are not. There's no biological requirement for admissions.
While the school is still banning applicants who identify with neither gender, the new policy "does not affect students who transition during their time at Smith."
Which basically just means, wait until you get to Smith to transition to male. Or drop your gender altogether. Just "evolve" on the issue.
The school is putting off hard decisions on daily life for trans women and those who interact with them until the media aren't paying such close attention:
President Kathleen McCartney is establishing a working group to develop a comprehensive approach to supporting transgender and gender non-binary students at Smith. The group will extend the expertise that departments across the college, including Residence Life and Athletics, already have in meeting the needs of trans students and ensuring a healthy, welcoming environment for all. In addition, there are already a number of student organizations for transgender students and allies. Further, the NCAA has very clear regulations around eligibility of transgender students to compete in intercollegiate athletics.
You may remember Smith's kerfuffle over a trans woman student who was denied admission two years ago because the student was identified as male on a financial aid form.
The Washington Post says even this move doesn't satisfy one trans activist:
"While it is a huge step forward for the trans community and academia, some students are still marginalized on the basis of gender identification," [Trans Student Educational Resources Director Eli] Erlick said. Smith "should really be accessible for trans women, trans men and people with non-binary identities."
In other words, just stop being a women's college. Not so fast, this alum says:
"A theoretical deconstruction of the social category 'woman' such that anyone and everyone can identify as a 'woman' does not reflect the historical purpose of Smith College or the needs of its students," one Smith graduate wrote to the school's board of trustees. "Being a woman is not a spiritual or metaphysical experience. It is not a feeling and it is not a performative utterance. Being a woman is a lived experience with material consequences."
Read Smith's announcement and FAQ.
h/t Anton Sorkin
Like The College Fix on Facebook / Follow us on Twitter
IMAGE: Rauch Dickson/Flickr