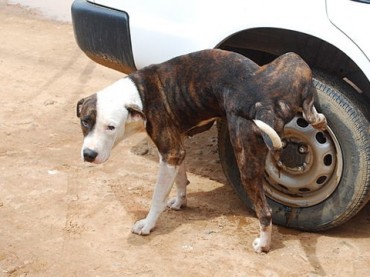 INDIANAPOLIS – The dog didn't eat my homework. The dog was my homework.
During the fall of my senior year at Butler University, I spent two hours each Wednesday walking dogs, petting cats and collecting a college credit.
The "Wagging, Walking and Wellness" course satisfied two core curriculum requirements for me: Physical Well Being and the Indianapolis Community Requirement.
The Physical Well Being requirement of Butler's core curriculum is a basic PE requirement most students have had throughout grade school and/or high school. While other Butler Bulldogs were sweating through such courses as "Israeli Dancing," "Buda Kai," and "Spinning," I spent my time at a local humane society shelter playing with dogs and cats.
The Physical Well Being page on the university's website described the Wagging, Walking and Wellness course I took as "designed to foster life-long habits of good health and multidimensional wellness by integrating physical activity, civic awareness, and community service. Emphasis will be on personal and social responsibility for optimal quality of life."
In order to fulfill this requirement, our class wrote journal entries and a paper, took an online quiz, created a public service announcement or wrote a letter to a public official, and volunteered at the shelter. During our time volunteering we were instructed on how to properly interact with the animals and took turns at various stations.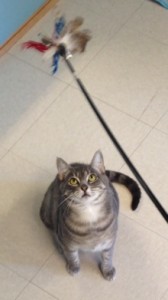 Some students would spend most of their time with the cats. There were multiple cat rooms where students could relax with cats that had Feline Immunodeficiency Virus, with healthy cats, or cats that needed to "de-stress" and learn to play well with others.
Dogs were taken for walks around the shelter's grounds, brought out to the kennels to play with tennis balls and chew toys, or petted and fawned over in the puppy room. We picked up their poop, helped mop their urine if they got excited indoors, and fed them doggy treats for being good boys.
Along the way, I only almost let one dog slip away—texting while dog walking is a real hazard, as the humane society reminded our class via email. In this instance, my canine companion managed to momentarily break free when my dog-walking partner attempted to hand me the leash while both of us were texting. The small dog, whose physical appearance strongly resembled Max from the Grinch, sensed his chance at real freedom and made a break for it. I did manage to chase down the dog, mostly because the dog could not get too far on just three legs.
My impeccable service to Indianapolis' mostly four-legged residents satisfied the Indianapolis Community Requirement I needed to graduate. The university's website defines the requirement as "a course that involves active engagement with the Indianapolis community."
Butler's updated list of ICR-approved courses appears to apply this definition quite liberally, including such courses as "The Politics of Alice Walker" and "Occupy the University."
Alice Walker won the Pulitzer Prize for Fiction for the novel, "The Color Purple," and is well known for her left-wing activism. She gained attention for her remark to Foreign Policy, "I think Israel is the greatest terrorist in that part of the world [Middle East]. And I think in general, the United States and Israel are great terrorist organizations themselves."
The Spring 2013 course listing for "Occupy the University," explained the course in greater detail saying, "What is the mission of the university? Is it the narrow mission of job training, or profit? Or is it the more complex democratic mission of fostering critical citizenship? With business majors at an all-time high of 22 percent of undergraduates and increasing numbers of administrators (with upwardly mobile salaries) drawn from the business sector, are we witnessing the corporate takeover of academia? With most college grads unemployed or working jobs that do not require a college degree and carrying an average of $25,000 in student loans, does it even make sense to go to college anymore? In the face of expanding class sizes, the adjunctification of the tenure track, austerity measures, and assaults on academic freedom, does it make sense to be a college professor anymore?"
The course listing continues to explain that the course will answer these questions, remain "True to feminist form," and examine "the ways in which current practices generate and perpetuate privilege and oppression, rather than social justice."
Wagging, Walking and Wellness does not lecture students about the futility of a college education or the importance of social justice.
The popular class has provided many Butler students with an alternative course that satisfies multiple core curriculum requirements—just for playing fetch.
Ryan Lovelace is a 2014 Graduate of Butler University. He was a 2013 SFPA/College Fix Fellow at The Weekly Standard.
(Images: Dog-Ivan Mlinaric WikimediaCommons / Cat-Ryan Lovelace)
Like The College Fix on Facebook / Follow us on Twitter