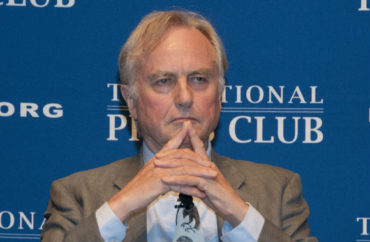 It has become 'one of the most rabidly progressive institutions' at the college
Who knew evolutionary biologist Richard Dawkins was a polarizing figure?
Apparently not Trinity College Dublin's College Historical Society, which proclaims itself "the world's oldest undergraduate society" and "the model for debating societies" at Oxford, Cambridge and Yale.
Student newspaper University Times reports that the society's auditor, Brid O'Donnell, announced on her personal Instagram page that "The Hist" was disinviting the militant atheist and famed author of "The Selfish Gene" because "we value our members comfort [sic] above all else."
She did not know about his "opinions on Islam and sexual assault until this evening," O'Donnell reportedly wrote Sunday, though the post is not visible on her public page. It's not clear whether she deleted it or just hid it.
The longtime University of Oxford "professor for public understanding of science," who once said that pigs are more "human" than human fetuses, has become loathsome to the progressive left in recent years for his critical comments on Islam.
By referring to Dawkins' views on sexual assault, O'Donnell (below) apparently means his 2013 comments that people shouldn't judge "mild pedophilia" by 21st century standards. Dawkins was discussing an incident from his childhood where his school master reached into his shorts, arguing that such behavior doesn't cause "lasting harm" to children.
MORE: Dawkins booted from Berkeley event for 'hurtful speech' on Islam
According to the Times, O'Donnell's post explained that her predecessor had invited Dawkins and "I followed up the invitation with limited knowledge" of the scientist's views, which were not fully fleshed out on "his Wikipedia page." He was supposed to speak early next year.
She told the newspaper:
I was not previously aware of the harmful statements made by Richard Dawkins. The invitation was issued in advance of this committee's tenure, and we are deeply grateful to the members and students who brought this to our attention.

The comfort of our membership is paramount, and we will not be proceeding with Professor Dawkins address. I apologize for any distress caused by this announcement, and the Hist will continue to listen and adapt to the needs and comfort of students.
Another Irish student publication, The Burkean, said Dawkins' invitation was "far more remarkable" than his disinvitation, given that The Hist "experienced what could only be called a soft coup over the summer":
From the society announcing its support of the American 'Black Lives Matter' movement, to the denouncing past versions of itself for the mortal sin of racism, over the period of a few months the society has become one of the most rabidly progressive institutions within the college. [The society doesn't even mention that Edmund Burke founded it.]
MORE: Co-discoverer of DNA disinvited for once criticizing Africa
Back when an education meant hearing things you disagree with, universities brought in speakers BECAUSE they said things that were controversial.

Richard Dawkins' cancelled at Trinity College Dublin for previous comments that current students say make them feel uncomfortable. https://t.co/Tat6x4BzS5

— David Millard Haskell (@DMillardHaskell) September 28, 2020
More fitting for its recent direction is The Hist's speaker this week, "Ireland's preeminent Black Studies advocate and hieroglyphics expert Ebun Joseph, who will be taking part in a panel titled 'Racism in Irish Education,'" the publication said:
The modern progressive has managed to worm its way to the top of Irish society. While the likes of O'Donnell would have been laughed out of the room less than a decade ago, they now rule the roost, forcing their views down the throat of everyone they can. Dissent in the minds of these ideologues should never be tolerated, as demonstrated by how frequently they will try to get people deplatformed, and even depersoned, when they are perceived to have sinned against their new form of Cultural Maoism.
The Times noted that in 2018 the society apologized for inviting an even more controversial speaker, Nigel Farage, whose leadership of the U.K. Independence Party helped usher in Brexit in 2016.
Its auditor at the time, Paul Molloy, initially defended inviting Farage and awarding him the society's medal for public discourse, saying it often invites figures who "hold controversial and unorthodox views." While Farage ultimately spoke, the society did not give him the medal.
Read the Times report and Burkean article.
Choosing comfort over dialogue. Another example of the degradation of some of our academic disciplines. https://t.co/ASPjbZZNIr

— Jeffrey Flier (@jflier) September 28, 2020
MORE: PC Twitter mob forces resignation of Nobel Prize winner
IMAGES: Albert H. Teich/Shutterstock, Brid O'Donnell/Instagram
Like The College Fix on Facebook / Follow us on Twitter