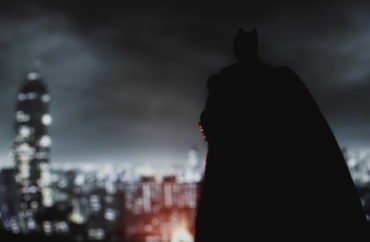 When you think about Batman, your mind likely doesn't first focus on his academic accomplishments. Maybe you fantasize about attending one of Bruce Wayne's lavish parties, or you imagine what it would be like to have every technologically advanced weapon at your disposal, or you dream of inflicting his vigilante brand of asskickery (BAM! POW!) on society's cretins.
But, in fact, it turns out Bruce Wayne himself was a graduate of Yale Law School – a fact confirmed by the cartoonist who drew the famous panel featuring Wayne's law degree.
So instead of The Dark Knight, Bruce Wayne could have been Supreme Court Justice Batman or President Batman. Or he may even have gone back to teach at the school as Professor Batman.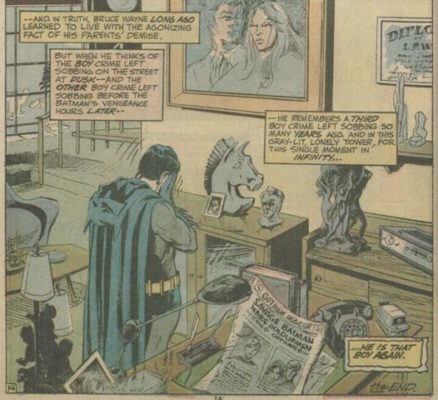 However, Wayne would have attended a Yale Law School that he likely wouldn't recognize now. Last week, the august Ivy League university found itself embroiled in a controversy in which a part-Native American student received a stern talking to for allegedly "triggering" other students in the school for a number of innocuous reasons.
For one, the student, Trent Colbert, was a member of the conservative Federalist Society. He also invited other students to a party at his apartment, which he jokingly called a "trap house." And he attempted to lure them there with Popeye's fried chicken, which he could obtain from the fast food restaurant right next to his house.
Even The Riddler wouldn't have been able to figure out why this offended anyone, but this is Yale, so naturally the tender sensibilities of a number of Colbert's fellow law students kicked in. A diversity administrator told Colbert some students were "triggered" by the fact he was a member of the Federalist Society. Some students believed the term "trap house" was racially insensitive, as was the invitation to eat fried chicken (the administrator pointed out that an inordinate number of African-Americans suffer from diabetes.)
If a minority law school student can no longer make it at Yale without administrative interference, one suspects Bruce Wayne would have been drummed out before he took his first mandatory diversity seminar. For one, he was the billionaire playboy son of a one-time real estate developer who, after a collapse in the real estate market leaving millions homeless, pivoted to making military weapons.
As opposed to fellow D.C. Comics superhero Superman, Batman was a staunch conservative. His best friends were cops, while Clark Kent was a member of the liberal mainstream media. Superman was a New Deal-loving undocumented immigrant who hung out with John F. Kennedy. Batman's primary foes were environmentalists (Ra's al-Ghul, Poison Ivy), college professors (the Scarecrow) and occupiers (Bane).
(As a side note, Wayne learned his fighting style based on the Eastern Asian martial arts – so he'd have to fight off the cultural appropriation army, as well.)
Today, Batman himself would never be allowed on campus to solve any crimes unless he reimagined himself as the Caped Social Justice Crusader. Universities would cancel him unless he showed up on their grounds to rescue students from having to hear Condoleezza Rice give a guest lecture or taking a math class that doesn't focus on "colonialism and privilege." Despite having the most famous mask in the world, he'd be barred from campus because it didn't cover his mouth, too.
It isn't difficult to imagine a scenario in which Batman is subjected to days upon days of faculty hearings critiquing whether he is saving enough people from marginalized groups, or quizzing him as to whether he has provided Robin with enough diversity training. The Dark Knight's tendency to solve disputes with violence clearly wouldn't fly – every week, New Haven would be flooded by Bane-led protesters claiming prisons were unjust and criminals should all be set free.
Thankfully, in real life, schools aren't threatened by supervillains dressed as clowns or penguins. In fact, on today's campuses, college students mostly need rescuing from school administrators.
As proof, a recent Washington Post headline gloriously demonstrated the true danger on campus using only four words of the headline itself: "Academica is under threat."
Maybe all "academia" needs to save itself is for Batman to deliver a few dictionaries to campus.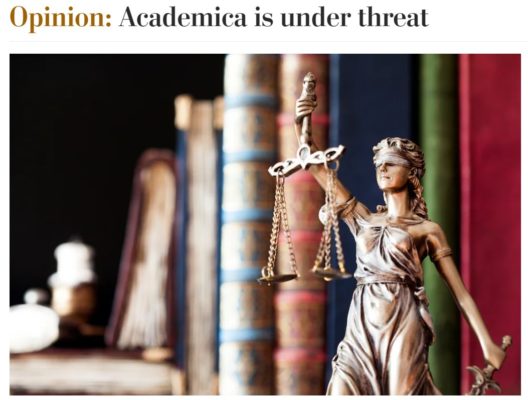 ALERT: Check out our new Campus Cancel Culture Database!
IMAGE: Willrow Hood / Shutterstock
Like The College Fix on Facebook / Follow us on Twitter