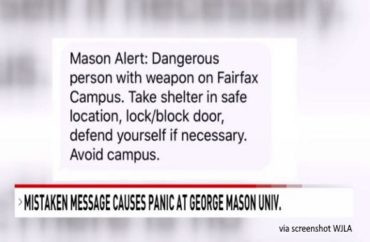 For a few tense minutes at George Mason University on Tuesday, people truly feared for their lives. An alert sent to the campus community read: "Dangerous person with a weapon on Fairfax campus. Take shelter in safe location, lock/block door, defend yourself if necessary. Avoid campus."
Although classes for the fall semester have yet to begin, for those on campus, the alert gave them feelings of dread and alarm, with several saying they were traumatized, according to numerous social media posts by students.
But less than 10 minutes after the alert went out, a second one was sent that informed the campus community it was one huge mistake. It read: "There is no emergency at George Mason University. This message was inadvertently sent. See email for more information."
That email explained the alert was sent by one of the university's emergency notification system software vendors, not by a campus employee.
"We understand that this was a frightening experience for our community and apologize for the fear it may have caused," the email stated. "Environmental Health and Safety is working with the university's emergency notification system providers to determine how this message was sent and to prevent future incidents."
Alertus Technologies did not immediately respond to a request for comment from The College Fix on Tuesday.
While many were understandably upset by the mistake, after the initial shock wore off, some took the opportunity to politicize the incident.
In response to George Mason News' official tweet calling it a false alarm, one person who identified herself as a former GMU employee replied that "our rightful anger should not even be directed at the third-party vendor but the system of white supremacy that fuels the egos of active shooters in the first place."
@GeorgeMasonU pic.twitter.com/AHntdKP78b

— Amini Bonane (@aminibonane) August 20, 2019
Another replied: "The actual emergency at GM 'U' is that they've sold out to the Koch Brothers. They're not a university anymore, so much as a propaganda device."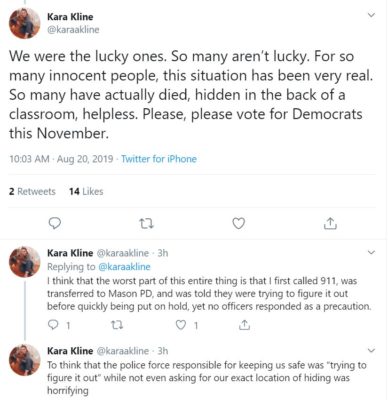 And Kara Kline, president of the College Democrats at GMU, took to Twitter to say: "To think that the police force responsible for keeping us safe was 'trying to figure it out' while not even asking for our exact location of hiding was horrifying."
"We were the lucky ones. So many aren't lucky," Kline added. "For so many innocent people, this situation has been very real. So many have actually died, hidden in the back of a classroom, helpless. Please, please vote for Democrats this November."
Meanwhile, the GMU chapter of Students Demand Action for Gun Sense in America called for the unknown employee to be "demoted" and for a "comprehensive apology email" to be sent out including resources for those "emotionally affected by the MasonAlerts and other trauma."
Students Demand Action also wrote that "this incident only shows a lack of understanding and seriousness around the issue of violence in our communities — particularly with gun violence."
On a popular GMU "General posting" Facebook group, which has about 2,000 members, student William Jennette was among the first to post that the alert was a false alarm.
Jennette told The College Fix he thinks "the company who does manage the alerts has some apologizing to do, because that was a pretty intense message to just send out accidentally—if they wanted to test the system they could easily have done so with a message saying 'this is a test.'"
Jennette also said he plans to sit down with university officials regarding the incident. Many students have stated on social media the person responsible for the mistake should be demoted or fired, prompting a lively debate. Others have said the person deserves leniency.
In a statement emailed to the campus community late Tuesday, David Farris, executive director of Safety & Emergency Management, wrote that the university is now reevaluating its contract with the vendor that made the mistake and offered counseling services to those who need it.
The mistaken alert at GMU comes on the same day a mistaken alert was reported at Louisiana State University.
MORE: First Line of Defense Against 'Active Shooter' Threats
Like The College Fix on Facebook / Follow us on Twitter