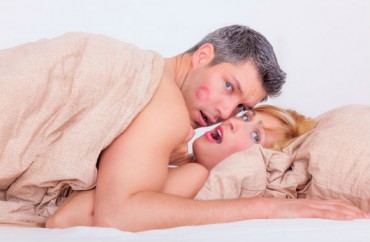 'Shower together afterward. Tell a joke afterward. Stick around afterward.'
A student columnist at an Ivy League university claims that the school is suffering an epidemic of "lukewarm" sex from men who are "bad at listening to women."
"Men at Yale are overwhelmingly underwhelming in bed," Amelia Nierenberg writes in The Yale Daily News. "Far too many Yale women have a few good conversations with a guy and feel a real connection, only to be repeatedly disappointed by oomphless coitus."
This "oomphless coitus" is "not a permanent state of affairs," Nierenberg claims: "It's something the men of Yale can fix with a little effort. But, at least right now, it's an epidemic with a simple cause: Men at Yale are bad in bed because they are bad at listening to women."
Nierenberg's advice? "Step one: Listen to your partner. Step two: Act on that."
"That's it," she writes.
Nierenberg offers several theories for why Yale men are such underwhelming partners: one is that "the men of Yale truly do not know how sexually mediocre they are." The other is that "they know but just don't care."
As part of the solution to fix this campus-wide problem, Nierenberg advises Yale men to "be more conscious of how gender dynamics impact conversations about sex, in and out of the bedroom." In order to "have constructive conversations about sex," she writes, "men have to encourage real constructive criticism."
Most men at Yale don't think to ask for advice because they are practiced in believing their own exceptionality. As a result, mediocre man-sex manifests in silly, sad ways. Yale is full of men who enthusiastically recommend Kurt Vonnegut, pontificate about debt policy or tell you about their successful startup. These are the men who do not reciprocate oral sex because they "don't like the taste" or think "it's complicated." They are the men who react to an orgasm in jaw-dropping amazement because they never cared enough to ask their previous partners how the experience had been for them. Somehow, none of these men have ever bothered to read the "find the G-spot" wikiHow, or — even more easily — ask their partners if something feels good.

What I'm describing is consensual. It's just really, really mediocre.

Nights of half-hearted hip thrusts are a symptom of a larger problem, one also found in club meetings, classrooms and coffee shops. Men talk over women in meetings, men willingly unload emotional problems onto women friends and — yes — men orgasm while their partners repeatedly do not. In the same way that men at Yale are "softboys" in their friendships, they're even more flaccid with their sexual partners.
A "softboy," according to Urban Dictionary, is a man who "butter[s] a girl up by appealing to her emotions and showing a 'sensitive' side long enough for her to sleep with him, whether or not he actually cares about her or not [sic]."
Nierenberg offers other tips for men to improve this problem, imploring them to simulate real relationships as opposed to fake sex-based ones: "Shower together afterward. Tell a joke afterward. Stick around afterward. Minor improvements make a world of difference."
MORE: Harvard Sex Week: 13,000 condoms, 1,200 bottles of lube, and 'BDSM in the dorm' lesson
MORE: UChicago Sex Week includes love enchantments, 'sexual pain' workshop, BDSM tutorials
 IMAGE: Shutterstock
Like The College Fix on Facebook / Follow us on Twitter