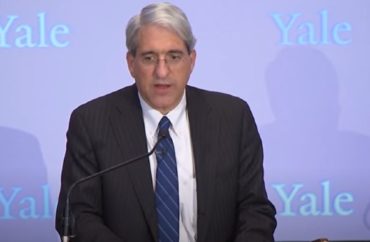 Advisory board wants to protect 'productive' and 'open conversations'
Yale University's presidential advisory body is reportedly giving feedback to President Peter Salovey on free speech issues on campus.
The news comes against a backdrop of free speech problems at the school, including the disruption of an event last year with Alliance Defending Freedom's Kristen Waggoner, hosted by the Federalist Society.
The disruptions at Yale led federal judges James Ho and Lisa Branch, among others, to boycott the hiring of future law students from Yale.
The university said it follows the free speech recommendations of the Woodward report, commissioned by Yale and published in 1974.
The report recommended that protest be allowed but that disruptions be punished. It is desirable that individuals and groups register in a wide-open and robust fashion their opposition to the views of a speaker with whom they disagree or whom they find offensive," the report stated. "When such a speaker has been invited to the campus by one group, other groups may seek to dissuade the inviters from proceeding."
The College Fix reached out to Yale University three times in the past several weeks to ask if the president will uphold the Woodward standards and for his views on free speech restrictions. The Ivy League university has yet to respond.
The volunteer University Council was set to provide the president with insights at the end of March, according to the Yale Daily News.
"The Council will also produce recommendations on how to foster 'productive, open conversations' across campus," the student newspaper reported.
"We'll be promoting a culture on campus in which all points of view are welcome," President Salovey (pictured) told the paper.
"But it is a punishable offense against the principles of the University for the objectors to coerce others physically or to threaten violence," the report concluded.
Salovey and the University Council's discussions come at a time when elite law schools around the nation are grappling with free speech issues.
Earlier this year, U.S. Court of Appeals for the Fifth Circuit Judge Kyle Duncan attempted to speak at Stanford but was shouted down by students.
The law school's DEI dean, Tierien Steinbach, appeared to criticize Duncan instead of quelling the noise.  Stanford President Marc Tessier-Lavigne and Stanford Law School Dean Jenny Martinez had to apologize to Judge Duncan for the behavior of the students and the DEI dean.
The disruptions led Judge Ho and Judge Branch to add future Stanford law graduates to their no-hire list.
Ho was reportedly in talks with Yale officials to make amends, as previously reported by The Fix.
Editor's note: The author of this article is going to intern with Alliance Defending Freedom this summer.
MORE: Yale columnist shares anger at 'polite' pro-life group
IMAGE: Yale University/YouTube
Like The College Fix on Facebook / Follow us on Twitter