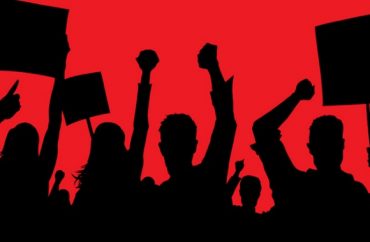 Yale claims these students 'enhanced' race relations. They did exactly the opposite.
Our current campus moment—marked as it is by angry student demonstrations, social justice hysteria and progressive grandstanding on an industrial scale—is bad enough as it is; it is made worse when college administrations contribute to and enable this zeitgeist. Unfortunately, Yale University has recently done just that, honoring two students who harassed and intimidated a Yale professor as part of a furious and irrational student mob.
The controversy began nearly two years ago at Yale, when Silliman College Associate Master Erika Christakis implored students to relax about "inappropriate or provocative" Halloween costumes; college, she wrote, used to be a place for "regressive, or even transgressive, experience," and students should not be so quick to adopt "censure and prohibition" in the face of goofy or even "offensive" dress-up.
Unsurprisingly, Yale students were offended and scandalized by Christakis's utterly reasonable advice, as modern college students are wont to do. What happened next, however, was surprising even by the standards of modern college histrionics. The backlash against Christakis was significant enough that she eventually quit teaching at Yale. And in a now-infamous and emblematic event, a group of furious students surrounded and berated Christakis's husband, Nicholas, a professor and master of Silliman College. The students accused him of creating "a space for violence," demanded, "Who the fuck hired you?!" and claimed, "I'm disgusted knowing that you work for Yale University." Nicholas did his best to calm the mob, but it would not be satiated. He would eventually apologize to these students and, in the end, step down as head of Silliman.
A confident and respectable university would have uniformly condemned this unreasonable and thuggish display of mob mentality. Yale decided to embrace it. At graduation exercises this year, the university honored two of the students who took place in the mob, commending them for "enhancing race and/or ethnic relations" at Yale. The designation is laughable: the students involved in the public defenestration of the Christakises were actively subverting race relations at Yale, not improving them. The two students who were so honored with this designation are leaving a Yale campus that is more paranoid, less cohesive, angrier, uglier, more fractured and less racially amicable. The Yale community now knows: if you attempt to have a polite, constructive dialogue about even something so innocuous as "offensive" Halloween costumes, you will be set upon by a furious horde of student agitators who will quite literally refuse to listen to reason. Yale considers this an "enhancement!"
It seems, at times, that we are past the point of reclaiming our colleges as sanctuaries of honest debate and reasonable discourse. There are, to be sure, plenty of reasonable and honest people still left on college campuses everywhere—even at Yale. But Yale's institutional commitment to honoring its students' delusions is yet another deeply troubling sign of the decline of American higher education. Students at Yale and elsewhere will look at this award and see that the boundaries of acceptable behavior on campus have yet again been broadened; they will know that it is perfectly okay to verbally assault a professor, and indeed you might even get an award from it. What do we imagine will come from this dismal state of affairs? Surely we will find out soon enough.
MORE: Flanked by administrators, Yale master apologizes to students for his wife's Halloween comments
Like The College Fix on Facebook / Follow us on Twitter