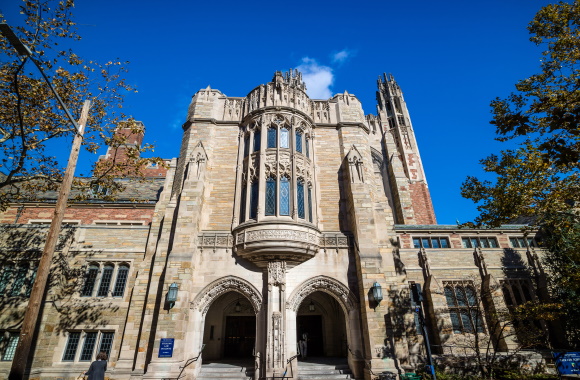 Contra the famous axiom, Yale Law School isn't even right as often as a broken clock. They're not right twice a day, or twice a month, or twice a year. Over the years, YLS administrators have stepped on more rakes than a blind Home Depot employee.
You may recall the "trap house" imbroglio of a few weeks back, when Yale diversity administrators effectively threatened a half-Native American student for using a term popular in rap music in a party invitation.
Never mind the optics, reasoned the law school – a student of color was offended, so Trent Colbert – a second year law student of half Cherokee lineage – was hauled before a diversity panel and asked to explain himself. Colbert was told other students had complained about his party invitation, saying they were "triggered" by his affiliation with the conservative Federalist Society and arguing his reference to fried chicken was racist. (Turns out there's a Popeye's right next to his house, which should inspire a new saying – "never ascribe to racism what can be explained by standard laziness.")
And, of course, Associate Dean of Student Affairs Ellen Cosgrove sent an email to Yale Law's entire second-year class to "condemn…in the strongest possible terms" the allegedly "pejorative and racist language" in the party invitation.
"I worry about this leaning over your reputation as a person," Director of Diversity, Equity & Inclusion Yaseen Eldik told Colbert in a meeting, threatening problems in the future if the student didn't apologize. "Not just here but when you leave. You know the legal community is a small one."
L'affaire trap house blew up in the school's face, as conservative and liberal professors and alumni alike criticized the school for its handling of Colbert's email.
But the school wasn't done.
This week, two anonymous students of color have sued three Yale Law School administrators for allegedly threatening to harm their future job prospects unless they agreed to tell falsehoods about a particularly problematic professor.
Amy Chua, a law professor known for helping students get prime judicial clerkships, has long been a target of the law school's administration over her conservative politics and her popularity with students. (See an exclusive College Fix interview with Chua explaining her travails here.)
The students are suing Dean Heather Gerken, Law School Associate Dean Ellen Cosgrove and Eldik – all three of whom featured in the accusations against Colbert – for attempting to "blackball two students of color from job opportunities as retaliation for refusing to lie to support the University's investigation into a professor of color."
The students – a black female and an Asian-American male – allege Gerken approached one prestigious law school professor and counseled against hiring either of them as "Coker Fellows," which are prestigious teaching assistant positions that often lead to federal clerkships and other lucrative career opportunities.
At issue was a "dossier" of information the administration was using to try to damage Chua's reputation. Among the charges made within were that Chua had held parties in violation of a previous agreement with the school not to do so, and that Chua had a federal judge to her home in violation of COVID-19 lockdown rules.
The plaintiffs, however, claim the dossier wasn't true and refused to validate it. The students say they were facing racial discrimination at the school, and instead of discussing it with Chua over Zoom, they went to her house to get face-to-face advice. No "parties," no federal judges.
Nonetheless, the dossier painted the plaintiffs ("Jane and John Doe") as liars and they say they were repeatedly cajoled into lying about Chua's activities. (The Fix first took note of this undue pressure back in July.)
"Despite Jane and John repeatedly denying the Dossier's assertions, Cosgrove and Eldik pressured Jane and John to make such a statement, even calling them on a daily basis over the course of a week in April 2021, insisting that Jane and John had a 'moral obligation' to 'future generations of students' to make the false statements against Chua," the lawsuit reads.
As they did with Colbert, administrators threatened future job opportunities could be lost if the students didn't play ball.
"Eldik told Jane that the Dossier would likely end up in 'every judges' chambers,' 'following [her] even after [she] graduates,' effectively sabotaging any hopes of her securing a clerkship whether she applied now or in the future," the lawsuit reads.
The students are seeking $75,000 each in compensatory damages and at least $75,000 in punitive damages – both very low amounts for a federal lawsuit, according to some experts.
In both cases, the school has shown far more of an interest in protecting the institution and its ideology over any concern for racial diversity. It appears in the school's eyes "racial diversity" is merely a cudgel it can use to eliminate conservative thought from its halls.
"Their goal isn't to make universities more inclusive, but rather to wield the threat of exclusion against disfavored groups," said The Washington Free Beacon, which originally reported the Colbert story.
Indeed, in both the Colbert and Chua cases, the school has repurposed its diversity staff to attack minority students and professors in the name of racial equity. Support for students of color appears to be contingent on their ideological bent – and if they run afoul of the school's virulently progressive agenda, they can expect the diversity staff to actively damage their future prospects.
And even a broken clock can tell you it is well past time to change the leadership at the Yale Law School.
ALERT: Check out our new Campus Cancel Culture Database!
IMAGE: Shutterstock / Yale Law School
Like The College Fix on Facebook / Follow us on Twitter