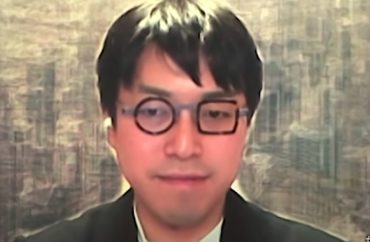 An economics professor at Yale University suggested that elderly Japanese kill themselves in order to alleviate "the burdens of [the country's] rapidly aging society."
According to The New York Times, Yusuke Narita (pictured) first made the comments about mass suicide in 2021, and elaborated on them further last year. They went viral on social media after being discovered by commenters to one of his video appearances.
During the Japanese news program ABEMA two years ago, Narita said "I feel like the only solution is pretty clear. In the end, isn't it mass suicide and mass 'seppuku' of the elderly?"
Seppuku is a "ritual disembowelment" common among "dishonored samurai in the 19th century."
Last year, Narita expanded upon his statement by describing to a viewer a ritual suicide scene from the 2019 film "Midsommar": "Whether that's a good thing or not, that's a more difficult question to answer. So if you think that's good, then maybe you can work hard toward creating a society like that."
Narita told The Times his remarks were an "abstract metaphor" about "the same tycoons continu[ing] to dominate [Japan's] politics, traditional industries, and media/entertainment/journalism for many years."
He added that "after some self-reflection" he stopped referencing seppuku: "I should have been more careful about their potential negative connotations."
MORE: UNC 'Global Whiteness' course blames U.S. for conflict against Japan in WWII
Nevertheless, Narita said that euthanasia, even if compulsory, is a "complex, nuanced" topic which he predicted will be "more broadly discussed."
Critics said it is hard to ignore Narita's words with a culture that has "historical sensitivities" about kamikaze and other ritualized suicides:
"It's irresponsible," said Masaki Kubota, a journalist who has written about Dr. Narita. People panicking about the burdens of an aging society "might think, 'Oh, my grandparents are the ones who are living longer,'" Mr. Kubota said, "'and we should just get rid of them.'"

Masato Fujisaki, a columnist, argued in Newsweek Japan that the professor's remarks "should not be easily taken as a 'metaphor.'" Dr. Narita's fans, Mr. Fujisaki said, are people "who think that old people should just die already and social welfare should be cut." …

"He's not focusing on helpful strategies such as better access to day care or broader inclusion of women in the work force or broader inclusion of immigrants," said Alexis Dudden, a historian at the University of Connecticut who studies modern Japan. "Things that might actually invigorate Japanese society."
An internet celebrity in Japan, Narita teaches and researches economics and statistics at Yale.
One of his doctoral supervisors at MIT said Narita was a "talented scholar with an offbeat sense of humor."
Read the full NY Times article.
MORE: Activists accuse professor of 'bigotry' toward Asians after he defended Japan
IMAGE: ABEMA / YouTube screencap
Like The College Fix on Facebook / Follow us on Twitter