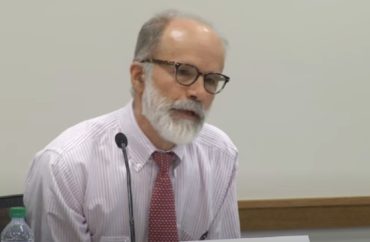 South Korean court recently ruled against the prostitutes' claims
Student activists at Harvard University have called on university leaders to apologize for the "discrimination and bigotry" promoted by a professor who has written critically of South Korean claims of World War II legal damages against Japan.
The petition from activists, which has been circulating for several months, is part of a broader effort against Professor Mark Ramseyer (right).
The letter from the Harvard Undergraduate Council, compared the killings of Asian women in Atlanta at a spa, to Ramseyer's paper, which he had begun circulating for publication in 2020. Ramseyer wrote an essay in January 2021 that gives a good summary of his arguments. The eight-page paper can be read here.
The professor of Japanese legal studies had, well, written a paper about the legal claims against Japan by Korean "comfort women." Japan, it should be noted, is also an Asian country.
Ramseyer used to live in Japan, has taught in Japanese universities and was a Fulbright student studying at the University of Tokyo. A review of his publications shows hundreds of papers, notes and essays written, primarily about law and economics in Japan.
The petition was one of several "Action Items" to support the Asian community that the student government encouraged.
Research paper is an 'atrocity' just like the Atlanta spa killing
Ramseyer's paper, "reveals a harrowing misogyny against Asian women and girls" and "furthers the racialized misogyny which oversexualizes and dehumanizes Asian femininity" the student government wrote in a long explanation of why students should sign the petition.
"As such, it is difficult for us to separate the atrocity of last Wednesday's events with the atrocity of his claims in this article, as they perpetuate harmful ideas that played a key role in the March 16th shooting," the undergraduate council said.
The editorial board of The Harvard Crimson called Ramseyer's paper "a deeply harmful, ahistorical lie." It said that Ramseyer's claim that there were not 200,000 Korean woman forced into prostitution by the Japanese military is not true.
"Let's be perfectly clear: Ramseyer's paper has no basis in reality. Up to 200,000 comfort women were sexually enslaved by the Japanese Army before and during World War II," the Crimson said.
The editorial didn't present new arguments: Ramseyer's paper and subsequent essay primarily confronted the extent to which there were a. 200,000 "comfort women" and b. They were coerced into having sex with Japanese soldiers.
It called his paper "disinformation" and said it was not worthy of academic freedom protection.
"Academic theories are simply not worthy of publication if they run counter to basic facts," the Crimson said, even though Ramseyer conducted a detailed historical review along with economic analysis.
"This is hardly a new concept or cancel culture run amok, but a common-sense standard of academic decency," the student paper explained. "None among us would defend a Holocaust negationist paper. We must recognize when ideas are dangerous and factually incorrect, then shut them down accordingly."
The student paper said his "fellow scholars" had criticized him. Well yes, that is supposed to be part of academia — professors debating ideas and going back and forth.
Based on some of the people Ramseyer thanked, we can assume some of the "scholars" that helped him develop the paper include Japanese professor Yoshitaka Fukui of Aoyama Gakuin University. Ramseyer also thanked Mitsuhiko Kimura, a former professor at the Korea Institute at Harvard.
Japanese scholar blasts activists
One Japanese studies scholar defended Ramseyer against the criticism.
Professor Ramseyer declined an interview with The College Fix out of concerns activists would twist his words against him. However, he recommended Jason Morgan, a professor at Japan's Reitaku University. Morgan is a former Fix contributor and is thanked by Ramseyer as helping him with the paper.
"The students' letter is riddled with falsehoods," Morgan told The Fix via email. "The problem is that the sources that are most often used in the US are based on the Yoshida Seiji novel, or at least repeat the narrative that Yoshida constructs there."
Morgan said there are two good examples of the documentation of the comfort women controversy, by Yoshimi Yoshiaki and Hata Ikuhiko.
Neither scholars, Morgan told The Fix, "would say that there were 200,000 sex slaves kidnapped at gunpoint from the Korean peninsula, which is what Yoshida writes. That is a complete and total fiction, which is precisely what Mark Ramseyer said in his Japan Forward essay from earlier this year."
Instead, Morgan said, there are political issues at play.
He explained:
What *is* controversial is how the issue was ginned up in the 1990s and thereafter. The comfort women issue was intentionally turned into an international incident in order to break up the Japan-US and US-ROK alliances. Yoshida Seiji's lies were reprinted by a reporter for the Asahi Shinbun, which is a far-left newspaper in Japan. The Asahi retracted its comfort women reporting in 2014. It was all a complete lie. The American left repeats this lie because they desire the same thing that the South Korean left and the Japanese left do: the breakup of the American alliance system in Asia.
The Fix first corresponded with Morgan in mid-April. Since then, a South Korean court has rejected the claims of the comfort women.
"A South Korean court Wednesday rejected a claim by South Korean sexual slavery victims and their relatives who sought compensation from the Japanese government over their wartime sufferings," the Los Angeles Times reported on April 21. It "based its decision on diplomatic considerations and principles of international law that grant states immunity from the jurisdiction of foreign courts."
MORE: Media ignores Asian man killed by two black girls, Asian student says
IMAGE: Harvard Law School/YouTube
Like The College Fix on Facebook / Follow us on Twitter