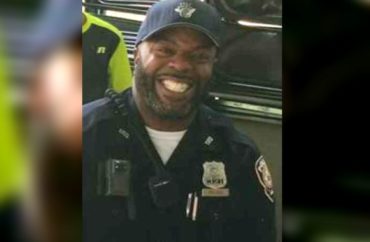 Activists still want total disarmament of campus police
Yale University has disarmed a veteran police officer even after a prosecutor found that his actions were "objectively reasonable, and therefore, justified."
Terrance Pollock was also stripped of his uniform and will be suspended 30 days without pay before returning in an "administrative capacity," the university told the community before Christmas, according to the Yale Daily News. The 17-year officer has been on administrative leave since April.
Pollock (above) was punished for responding to fire he believed was coming from a suspect in an armed robbery. It was actually coming from a non-Yale policeman, Hamden officer Devin Eaton, who started shooting after the unarmed suspect, Paul Witherspoon, exited his car with his hands up.
The state's attorney charged Eaton with assault and reckless endangerment, and the officer's chief recommended his termination. He hit Pollock as well as the passenger in the car, Stephanie Washington. Pollock fired only three of the 16 shots in the incident.
Activists applauded the reassignment of Pollock while continuing to demand the full disarmament of Yale officers. A statement from Black Students for Disarmament at Yale, formed in the wake of the shooting, said it will "not allow this victory to make us think" justice has been served by Pollock's punishment.
Local activist Kerry Ellington accused Pollock of making an "rampage" on Witherspoon and Washington in spite of the state's attorney saying his shots fired were "justified" in light of being fired upon. "This community will not stop fighting until both officers are off the streets — never to police the streets of New Haven again."
Campus activists are also pressuring the university to release a report it commissioned by a law enforcement consulting group, 21CP Solutions, that reviewed Yale police practices after the April incident.
MORE: Students crash president's office to demand cops be disarmed
IMAGE: WTNH
Like The College Fix on Facebook / Follow us on Twitter