When accuser 'froze,' accused student should have stopped, Yale argues
An accused student is suing Yale University for concluding that the brief absence of a condom "during an otherwise consensual encounter" was sexual assault.
"John Doe" alleges that "gender bias was a motivating factor" in the decision against him by Dean of the College Marvin Chun, which resulted in his suspension.
He argues that the Ivy League school should have updated its sexual-misconduct procedures after Education Secretary Betsy DeVos* rescinded the Obama administration's guidance on the subject in fall 2017.
The lawsuit was filed April 25. The senior sought a temporary restraining order that would let him "turn in his final papers," arguing that he "may have classes in common" with his accuser if he's required to repeat the semester in the spring. The judge overseeing the case denied his motion at a Friday hearing.
In its opposition to Doe's motion, Yale argued that Doe knew he was sexually assaulting Roe when the condom fell off because she "froze." That is a "very common reaction" by women who are sexually assaulted by a "known assailant."
Doe's allegations resemble those of Jack Montague, Yale's former basketball team captain, whom the school expelled on the eve of the team's first appearance in the NCAA tournament since 1962.
Both allege the university pressured their accusers to file formal complaints and violated their Title IX rights throughout the proceedings. A jury will now evaluate Montague's due-process allegations.
MORE: Trauma-informed theory of sexual assault is junk science
'I wasn't comfortable with like being penetrated without protection HAHA'
Doe met "Ann Roe" through the dating app Tinder. Shortly after, the two agreed to meet face-to-face in the early hours of December 9, according to the suit. After a fraternity party, they went back to Doe's place and had consensual sex.
In the 90-minute encounter, the condom failed no later than 45 minutes in and "a new one had to be applied," according to Doe. They had "unprotected sex for a few seconds" before he put on the new condom. (Doe's description is graphic, even for a Title IX lawsuit.)
Roe provided "undisputed testimony" that she gave Doe consent for the entire period both condoms were on. He claims he asked for consent "before the unprotected contact" and twice more "in the short time" during the unprotected sex, but she disagrees.
Roe stayed the night at Doe's place, leaving on a positive note mid-morning. Throughout the rest of the month, the two exchanged an array of online messages that maintained a friendly dynamic, he said.
Roe changed her tone in January, when she told Doe that she was uncomfortable with the brief absence of protection during their intercourse. He shared similar concerns.
On Jan. 16, she wrote:
I wasn't comfortable with like being penetrated without protection HAHA it like happened briefly but it left me pretty confused … I'm not like mad or gonna like idk [I don't know] try to get you in trouble or anything I was just confused.
The next day Roe told him she was "not trying to smear you or anything but I need some time to think about how I feel about this situation." After Doe expressed concern about her veiled accusation, Roe disclosed for the first time that she had been "actually sexually assaulted multiple times" and the condom lapse was "stressful."
Two weeks later, Roe filed a formal complaint of nonconsensual "unprotected sexual intercourse" against Doe with Mark Solomon, chair of Yale's University-Wide Committee on Sexual Misconduct.
Doe believes that university employees cajoled Roe into filing a complaint "that she otherwise did not contemplate filing," and that the UWC adopted the Title IX coordinator's "mission of increasing reporting" of sexual misconduct, though the suit doesn't provide evidence.
Yale suspends male student because he changed condoms during sex by The College Fix on Scribd
Committee official tells Doe sarcastically: 'Your mother obviously raised you well'
The university assigned Doe an unnamed UWC advisor who was unsympathetic to his side of the story and "would even be laughing while John was telling him intimate details," the suit alleges.
The advisor used his phone continuously during their brief meetings, telling Doe "'one second' as he sent and read text messages," according to Doe. He asked for a new advisor and ultimately received one.
Anita Sharif-Hyder (below), the associate secretary of the UWC, "mocked" Doe as he went to her office to complain about Roe's "defamation" against him. She greeted him by saying sarcastically: "Your mother obviously raised you well."
In addition, Doe claims that the UWC was unresponsive to a number of his emails. After a UWC counselor at Yale Mental Health made contact with him, as required by UWC policy, the counselor ignored him thereafter, Doe claims.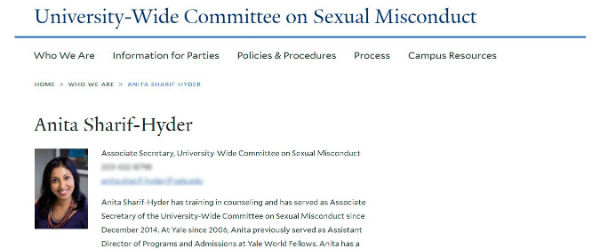 The UWC itself made false statements to Doe about the composition of his hearing panel. Though it gave him vague descriptions for each member, the committee said they would be four men and one woman.
The panel composition turned out to be three women and two men, one of whom was a member of Roe's graduating class. He didn't get an explanation about the situation.
Panelists were biased in their interpretation of the evidence and in their conducting of the hearing in general, the suit alleges. They didn't follow up on several inconsistent statements by Roe during the hearing but aggressively questioned Doe.
For example, Roe gave three versions of the encounter to three male friends in text conversations: that Doe removed the condom and Roe performed oral sex; that she removed the condom; and that Doe "stealthed" her by secretly removing the condom.
According to the UWC "fact finder," she gave one version: that the "condom came off," they kept having sex briefly, and then they "continued to have consensual sexual contact until John ejaculated."
Aggressive questioning for Doe, softballs for Roe 
Yale's UWC procedures give complainants and respondents the right to a hearing conducted by a "trained body" that "fairly and expeditiously" adjudicates complaints. Such fair treatment, Doe said, he did not receive.
Early in his testimony, one panelist "murmured something, shook his head vigorously and immediately began writing notes and stared at John with a look of disgust." The new advisor told Doe this was not typical behavior by panelists, who get "specific training against doing that."
The panel's questions to Doe had a "demeaning tone" and seized on "minor" discrepancies, while its questions to Roe were "very polite and conciliatory" and ignored "major" discrepancies, he claims.
When Roe testified, "she was laughing and the panelists were very cordial with her." Two of the panelists, meanwhile, "stared at John continually throughout the hearing with a look of disdain."
When Doe brought up that Roe belatedly told him she had been sexually assaulted multiple times, the panel ignored the potentially complicating factor. One panelist responded with "dirty looks and shook his head in disgust."
Panelists asked Doe repeatedly about how much he drank the night of their encounter, suggesting they were "trying to get him to say something inconsistent." In contrast, they asked the underage Roe no questions about the four drinks she admitted to consuming that night.
The panel asked Doe questions unrelated to the investigation, including an in-depth description of his other past sexual encounters. Yale policy prevents the panel from using "previous accusations of other acts of sexual misconduct that did not result in formal discipline" as evidence of culpability.
Days later, Dean Chun informed Doe of his "immediate suspension." He appealed and filed a Title IX complaint on April 3, accusing the university of sex-based discrimination in the UWC proceeding.
Assistant Provost Jason Killheffer (below) refused to open an investigation into the complaint, saying the case against him was still pending. Provost Ben Polak denied the appeal April 16.
Yale kept enforcing Obama guidance after DeVos rescinded
The lawsuit points out that Yale did not update the UWC procedures after Secretary DeVos rescinded the Obama administration guidance on campus sexual misconduct and issued interim guidance in 2017.
Accordingly, Yale failed to "correct the portions of the document that deprived the accused of fundamental due process," Doe claims.
At the time, DeVos specified that she would not continue the Obama administration's posture that guidance documents were legally binding, however. The Department of Education is now finalizing new rules on sexual misconduct investigations, following a rulemaking, which will be legally binding.
Doe wants the court to reverse Yale's findings and outcomes against him as well as financial compensation.
He's seeking no less than $75,000 in damages as well as damages for harms to his physical, emotional and psychological state. Doe has suffered reputation damages, "past and future economic losses," and "loss of educational and career opportunities."
IMAGES: VGstockstudio/Shutterstock, Yale University
Like The College Fix on Facebook / Follow us on Twitter