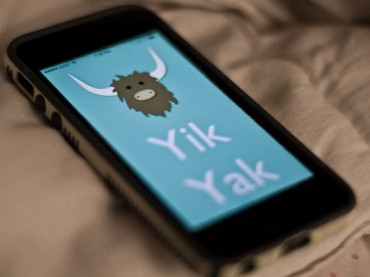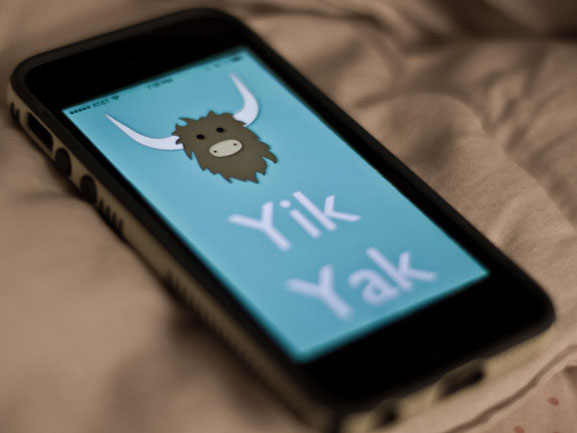 Students conspire to continually interrupt professor who's critical of anonymous communication
When the creators of the controversial anonymous messaging app Yik Yak returned to their alma mater for a forum last week about Yik Yak's "social phenomenon in context," they wanted to talk about how the app builds community.
What they got instead was a gossipy Internet mob that mocked every speaker at the forum – on stage and in the crowd – in real time on Yik Yak.
The fire-code-violating crowd of more than 360 people coordinated with each other on how to interrupt their targets as they spoke. Creators Brooks Buffington and Tyler Droll, Furman grads and fraternity brothers, did their best to fight the tension with stories of Yik Yak-assisted blood drives and broken social barriers.
The duo created the "social messaging app for hyper-local engagement" in 2013 and raised $1.5 million in funding in April.
Users download the app and enable it to see their phone's location, at which point the app sets the nearest university as the default feed, connecting "age-appropriate users within a mile-and-a-half geographical radius," as its funding statement said. Users can also "peek" into one of the hundreds of other schools that have Yik Yak feeds.
Cough Every Time 'Four Eyes' Speaks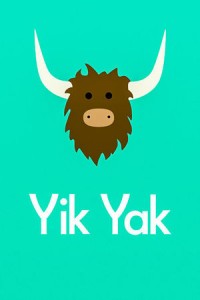 "Three words I would use to describe it: local anonymous Twitter," Droll told the crowd. "Basically, using location, you can post an idea and anyone around you can interact with you."
Through the app, "you have the ability to relay a funny experience or share a piece of news, and everyone is equal on Yik Yak," Buffington added. "It doesn't matter who you are – race, religion, none of that matters."
Brandon Inabinet, a professor of communications studies at Furman and critic of anonymous digital interaction who shared the stage with Yik Yak's creators, found that out the hard way.
Within seconds of each talking turn on the panel, Inabinet's remarks were followed by "yaks" that encouraged students to cough every time "four eyes" spoke. Inabinet turned a shade of red that students could see from the very last row in the hall.
"I think they want you to stop talking," Sarah Worth, moderator and Furman philosophy professor, eventually told Inabinet."This right here is exactly what Yik Yak does – makes a room full of strangers into a community," Buffington quipped.
The digital heckling continued against the president of Furman's NAACP chapter, Courtney Thomas, who asked a question during the Q&A portion and was targeted by yaks before she was finished speaking.
Buffington and Droll tried to turn the conversation back around to Yik Yak's redeeming features.
One Vanderbilt University student yakked that his brother needed a blood match for a transfusion, and about 1,000 people showed up to the drive, they said. Because of another yak, a Clemson University student's death sparked a statewide "wear orange" campaign in his memory.
'People Aren't Taking Ownership of What They're Saying'
But lingering questions remain about how anonymous messaging leads students to behave badly together so quickly.
Professor Robert Agne of Auburn University, which is the top school on Yik Yak's "peek" page, told The College Fix he doubts whether the app as structured is doing much good.
"People aren't interacting with one another like conversation," even if "on a broader scale there's a conversation going on," said Agne, who teaches communications and specializes in social interaction. "It's so removed from ordinary talk that it becomes a very different animal."
It's inevitable that controversial topics and racist language pop up on Yik Yak "because people aren't taking ownership of what they are saying," Agne said.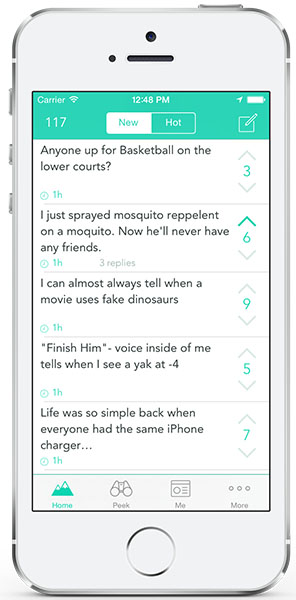 Yik Yak takes an approach that's common in other communication media – a user-based reporting system. Users can "up-vote/down-vote" posts, and if a post draws five more "down" votes than "up," it will automatically be deleted.
"They [yakkers] are held accountable by the community. It's up to the community police itself and 'vote down' inappropriate content," Buffington told The College Fix in an interview with the creators.
They argue that Yik Yak's problems are those of social media writ large.
"There's closed minded people, there's racist people, there's jerks in real life and there's jerks on social media" such as Facebook, Twitter and Instagram, Buffington said.
But the creators strongly support the right to speak anonymously, "and we want alert people to those risks and let them know how to use it appropriately," Droll said. "The Federalist Papers were written anonymously so it's the principle America is built on."
Yik Yak has not received any threats that the creators are liable for emotional distress inflicted on users through the app, at least at the university level, they said. But they are getting inquiries on how universities can use Yik Yak administratively to get to know students better.
College Fix contributor Courtney Such is a student at Furman University.
Like The College Fix on Facebook / Follow us on Twitter
IMAGES: Fox 10 TV, Yik Yak