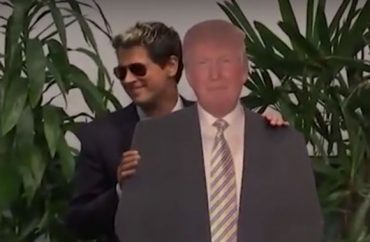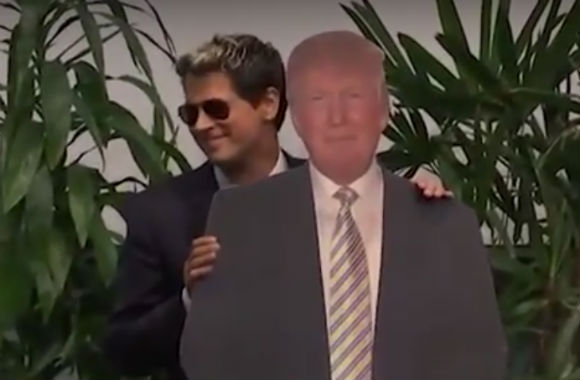 Uneasy with promoting a Trump booster who mocks libertarians
Young Americans for Liberty does not like the ideological direction of its University of California-Santa Barbara chapter, which it believes is veering from mainstream libertarianism.
Current and former UCSB chapter leaders told The College Fix that the national organization was uneasy with it hosting anti-feminist firebrand Milo Yiannopoulos and that a recent leadership shakeup followed an event on the transgender threat to liberty.
The dispute was revealed in a Facebook post Friday by a YAL employee, where he advised chapter leaders to bar Yiannopoulos from future speaking gigs.
A day before, the UCSB chapter of YAL welcomed the self-proclaimed "greatest supervillain" of the Internet in a cheeky event that featured Yiannopoulos being carried into the lecture hall in a regal procession.
Following Yiannopoulos's visit, the UCSB chapter's former vice president said he had been barred from future group activities by YAL national.
Though he chose a YAL chapter to kick off his "Dangerous Faggot Tour" in the U.S. this winter, Yiannopoulos has mocked libertarians and frequently promotes presumptive GOP presidential nominee Donald Trump, as he did at Thursday's event.
Consult your regional leaders for 'constructive ways' to promote free speech
In a Friday post to what appears to be a private Facebook group for "YAL Chapter Presidents," National Field Director Ty Hicks accused Yiannopoulos of creating "confusion" over the national student organization's message.
A screenshot of the post was shared in a message tweeted at YAL's Twitter feed by Kenny Collins, a member of the University of Tennessee–Knoxville chapter.
@YALiberty are cowards. @Nero now you're banned from speaking to YAL chapters. pic.twitter.com/MeXfmtGpYG

— Kenny Collins (@kennycollins88) May 27, 2016
"Any event featuring him must be dissociated with the YAL brand entirely," Hicks wrote in the post. "While Milo [Yiannopoulos] does make some insightful comments about the importance of free speech, the majority of his presentation revolves around hateful comments on Islam and serve as a platform to tout his support for Trump."
RELATED: Milo makes UCSB great again: Visit includes kingly entrance, Trump, and 'America, F*ck Yeah!'
Hicks advised leaders interested in "promoting free speech on campus" to consult their regional directors for "constructive ways" to do so.
A slight variation of the message – addressed to "YAL leaders," instead of "YAL Chapter Presidents" – was shared elsewhere on Twitter.
Young Americans for Liberty has gone full cuck and is now censoring their chapters in light of @Nero's existence pic.twitter.com/5wyEX0MoMz

— NathalieAlaska™ (@EastCoastAlt) May 27, 2016
YAL Executive Director Cliff Maloney said Hicks' post did not represent YAL in an "official … capacity."
"A staff member mistakenly made the post on his personal facebook and it has since been taken down," Maloney told The Fix in an email on Friday. "Our relationship with Milo remains unchanged."
Maloney did not respond to The Fix's request to explain why a personal Facebook post from Hicks would appear in a YAL leadership group, as suggested by the screenshot.
"Free Speech is what we fight for every day," Maloney wrote in a Friday afternoon Facebook post. "To be clear, YAL does not ban any speaker."
Hicks no longer agrees with the post, he told The Fix.
"My facebook post on Friday was a mistake as I was expressing a personal opinion but in the wrongful context of an official statement on YAL national's behalf," Hicks said in an email Sunday. He added that he had since removed the post.
"[W]e do not ban any speaker," he said.
'Discouraging future events' with Yiannopoulos
Ban or not, YAL wants to distance itself from chapter events hosting Yiannopoulos, according to Jason Garshfield, former vice president of the UCSB chapter.
Before Thursday's event, West Regional Director Erin Yeoman told chapter President Dominick DiCesare to "make it clear … that YAL does not endorse the content or support any candidates," Garshfield wrote The Fix in text messages.
"She said they were discouraging future events with Milo [Yiannopoulos] because he makes fun of libertarians and supports Trump – but she let our event proceed because it was the next day," Garshfield said. He declined to run again for VP after the chapter called across-the-board elections.
DiCesare confirmed that Yeoman wrote to him on Facebook about Yiannopoulos on Wednesday, but said he had already "planned on making that disclosure" before Yeoman approached him.
"I was simply told for legal reasons, we could not endorse a presidential candidate, nor could we endorse what [Yiannopoulos] actually said," DiCesare told The Fix in a Facebook message Saturday. "What was fine was endirsing [sic] his right to speak." As a 501(c)(3) tax-exempt organization, YAL cannot promote political candidates. Yeoman declined to speak to The Fix.
RELATED: Blood paint and vandalism greet anti-feminist troll Milo Yiannopoulos at Rutgers
At Thursday's event, several chapter members wore Trump's signature "Make America Great Again" hats and Yiannopoulos brought a cardboard cutout of Trump on stage with him, Garshfield noted.
Carlos Flores, the former president of the UCSB chapter, told The Fix over the phone that the Trump regalia worn by some leaders ran afoul of YAL's expectations for the event.
Former chapter leaders say they have been banned from events
In a comment on Maloney's Facebook post, University of West Georgia YAL President David Willis posted a screenshot of his post apparently made in a YAL GroupMe forum for chapter leaders.
"YAL chapter leaders are in no way to support the inflammatory anti-Muslim, anti-Feminist speaker Milo Yiannopoulos," Willis had written in the GroupMe post. He said that YAL itself "will in no way support or stand with Trump nor [Democratic presidential candidate] Hillary [Clinton]." None of those three represents "what YAL stands for."
Garshfield said he learned Saturday that YAL national told chapter leadership that he wasn't to "have anything to do with YAL" in the future. He never got a clear answer why he was singled out, Garshfield said – though he wore a Trump hat "briefly" at the Yiannopoulos event, other chapter members wore them "more visibly and for longer."
The chapter's event featuring TheBlaze contributor Matt Walsh in early May brought its own controversies. Walsh's talk on "transgender laws" as a threat to liberty caused others to create a "safe place" on campus for the same time.
RELATED: Here's the campus lecture criticizing transgenderism that led to 'safe place' for offended students
The day of the event, then-chapter president Flores had posed with three female members of UCLA's Bruin Republicans, who held signs that read "Get your agenda out of my restroom," "There are only two genders" and "Transgenderism is a mental disorder."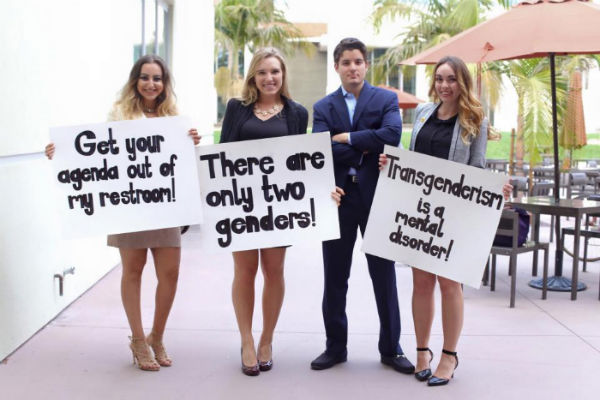 Flores told The Fix that a "concerned" YAL national employee called him after the photo "went viral" but said that YAL national seemed to be "fine with the event" itself.
Following the furor over the photo – UCLA's student body president condemned the UCLA students in it – Flores said he stepped down for "personal reasons" and was succeeded by DiCesare.
Yiannopoulos told The Fix on Sunday in text messages that he had heard a "few rumours" but that he didn't "know what the story" was regarding YAL and the UCSB chapter. He doesn't have a position on the matter and doesn't think it would be "helpful for me to wade" into the dispute.
RELATED: 'Safe place' set aside for those upset at campus talk on transgenderism's threat to liberty
RELATED: UCLA College Republicans promise legal fight if punished for 'only two genders' sign
Like The College Fix on Facebook / Follow us on Twitter
IMAGE: Breitbart/YouTube, Young Americans for Liberty screenshot, David Dakar Isaac Willis/Facebook, Bruin Republicans