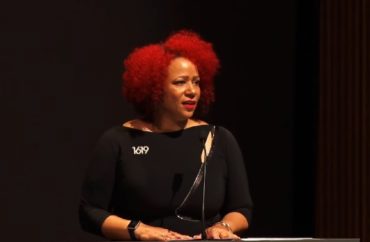 The creator of the controversial 1619 Project is launching an after-school "Black history-focused" literacy program in her hometown.
As might be expected of an Education Week article however, there's nary a word of the controversy surrounding Nikole Hannah-Jones' work other than a small blurb in an emailed update (below).
Regular readers of The College Fix are well acquainted with the debate surrounding the New York Times writer's "contributions" to U.S. history, including this most recent take.
According to its website, Hannah-Jones' new 1619 Freedom School is "a five-days-a-week, after school program dedicated to delivering intensive literacy instruction and a culturally responsive curriculum to bridge the academic opportunity gap among low-income public school students in Waterloo, Iowa."

It notes the program "evokes the legacy of the free, community schools launched by SNCC during the Civil Rights Movement in order to educate Black youth on their history and empower them to fight their oppression …"
The school will be staffed largely by Black certified teachers as well as volunteers from area high schools and colleges. The school will open in the historic Masonic Temple in downtown Waterloo. A satellite location will open in a brand-new community center in the Black-owned ALL-IN-GROCERS, set to open in winter 2022 in the heart of Waterloo's Black community. …

Through critical, self-reflective practices embedded in our research and our teaching, we will work against racial, cultural, linguistic, and socioeconomic inequalities by creating compassionate learning spaces where students and teachers learn to use language and literacy in critical and empowering ways.
MORE: Secretary of Education won't comment on '1619 Project'
Kingsley Botchway II, the "chief officer of human resources and equity" of the Waterloo Community School District, said there is an "opportunity gap" between white students and their "Black and Brown peers," and the 1619 Freedom School can help rectify this.
Botchway also said the district will continue its focus on implicit bias and the "dismantl[ing of] many of the challenges" affecting minority students.
Botchway doesn't say just what constitutes this "opportunity gap" and "many challenges." Given that Waterloo is a public district, it might be important to know exactly what isn't being provided to black and brown students that is for whites.
If the challenges include things like the aforementioned implicit bias, then you know Waterloo isn't very serious about "dismantling" anything. That it has a "chief officer" for equity is another clue.
Ed Week notes Iowa tried earlier this year to ban "curriculum derived from the 1619 Project," which is understandable given that much of it is fiction. This has led to worries about the 1619 Freedom School, but Hannah-Jones shrugs them off: "I'm not sure what the criticism can be for providing a free service that parents can choose to be in if they're interested …"
Regarding the Freedom School, the new Howard University professor says "I really do believe that liberation comes through literacy and education." When you think about it, this is an indictment of the white progressive teaching establishment that supports Hannah-Jones, as this bloc comprises a vast number of teachers (if not a majority), and certainly the control of the big teachers unions. It's also the most outspoken about stuff like diversity, equity and structural racism.
Yet, given Hannah-Jones' above comment along with Botchway's remarks, these educators certainly aren't not doing enough for the students they claim to care so much about. Why is that?
MORE: New book meticulously debunks NYT's 1619 Project
IMAGES: NY Times Events / YouTube screencap; Education Week email screencap
Like The College Fix on Facebook / Follow us on Twitter