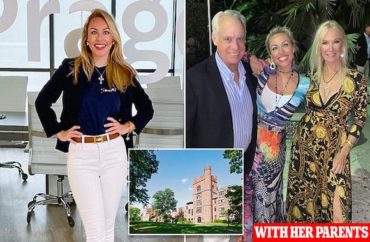 The mother of a Mount Holyoke College graduate spent $300 per day to "deprogram" her daughter of the school's ultra-progressive "indoctrination."
Pharmaceutical heiress Annabella Rockwell graduated from the Massachusetts all-women's college in 2015 brainwashed "into viewing the world as a toxic patriarchy and herself as an oppressed victim," according to the New York Post.
Rockwell said she grew up with "traditional values," was "open-minded" and decided on Mt. Holyoke for its "academic rigor and prestige."
But upon her arrival at the school Rockwell was "shocked" by the campus's "aggressively anti-male" attitude, "serious drinking culture" and bizarre freshman rituals that are "designed to shrug off gender roles."
Social media was a huge "echo chamber," Rockwell added, with everyone posting the Black Lives Matter black square and phrase "No Justice, No Peace."
Her junior year was a turning point — a gender studies professor informed Rockwell that she was oppressed by the patriarchy and sexism, and that both had "been working against [her her] whole life."
MORE: Mt. Holyoke offers 'Nonbinary Romanticism: Genders, Sexes, and Beings in the Age of Revolution' course
Rockwell developed a drinking problem at the school and came into conflict with her mother — who up until then had been, she said, her best friend.
But the time she graduated from the school, which charges $60,000 a year in tuition, in 2015, Rockwell said, she'd been "brainwashed" into believing she had been a lifelong victim of patriarchal oppression and had a duty to fight on behalf of other victims: women, people of color and LBGTQ folks.

"I left school very anxious, very nervous, very depressed and sad," Rockwell said. "I saw everything through the lens of oppression and bias and victimhood. I came to the school as someone who saw everyone equally. I left looking for injustice wherever I could and automatically assuming that all white men were sexist. My thoughts were no longer my own." …

"She was no longer the Annabella I'd known all her life," [Annabella's mom] Melinda said. "This girl was the most bubbly breath of fresh air to everyone. She lit up a room. But the light was stolen from her at that school. It was extinguished. It was no different than if she'd been taken away by the Moonies or the Children of God."
Melinda Rockwell eventually hired a "deprogrammer" at a cost $300 per day to break through Annabella's indoctrination.
"[Professors and older students] tell the students they are special — it's like they are anointed — then they tell them how oppressed they are and what victims they are and how they have to go out in the world and be activists to stop the oppression," Melinda said.
Annabella, who once "stumped" for Democratic politicians such as Hillary Clinton, now is employed as a fundraiser for PragerU and she credits her mom's "relentlessness" for breaking through Mt. Holyoke's dogma.
MORE: Mt. Holyoke president compares mural flap to totalitarianism
IMAGE: News Pug / Twitter screencap
Like The College Fix on Facebook / Follow us on Twitter