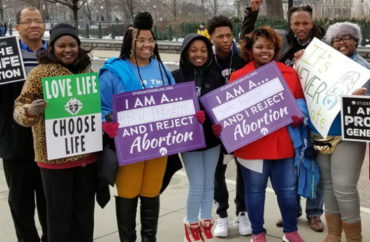 UPDATE
'As an African-American, I'm so excited about this courageous group of students'
The campus pro-life movement hit a major milestone on the eve of Black History Month: the incorporation of the first Students for Life chapter at an historically black college or university.
Students at Mississippi Valley State University set up their chapter at the end of January. Its pending formation was first announced at Students for Life of America's national conference in January.
"We are looking forward to getting the whole student body involved in the pro-life movement," Mark Steele, chaplain officer of the group, told The College Fix in an email.
The group is excited to leave a "positive impact" on their campus and have heard from students who "are looking forward to being involved," he said.
Steele believes this "is part of our mission from our Creator," and the group looks forward to "doing our part to save lives."
They have been working since December to start the group, Elizabeth Parker, Appalachian regional coordinator for SFLA, told The Fix in an email. Unlike pro-life clubs at other colleges that failed to get recognition, the MVSU club did not face any hurdles from the administration or student government in getting recognition, she said.
Black pro-life activist Ryan Bomberger had the opportunity to speak to the MVSU group at the SFLA conference (below), he told The Fix in an email.
"As an African-American, I'm so excited about this courageous group of students challenging the violence of abortion and fake feminism at an HBCU," said Bomberger, whose Radiance Foundation publicizes abortion's toll on the black community.
He called the group's formation a "landmark moment where the prolife message is breaking barriers."
MORE: Bomberger shouted down at Harvard Law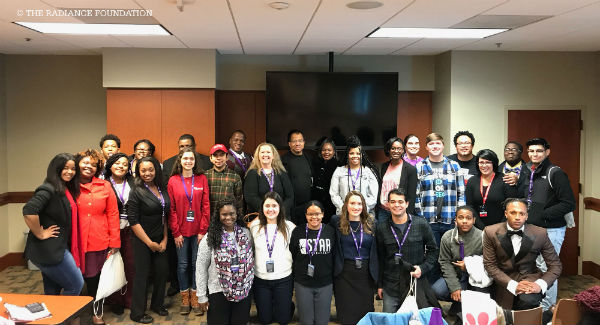 It hasn't been a completely smooth path for the new club, according to Parker: "Some of the leaders have faced backlash from friends."
One shared on Facebook what "he was learning about abortion and the black community," which caused him to lose friends and receive criticism, she said.
Bomberger's efforts to educate majority-white campuses about abortion's disparate toll on black communities has also been met with hostility.
He was shouted down at Harvard Law School and called a "fucking piece of shit," while student leaders at evangelical college Wheaton publicly accused him of making nonwhites on campus feel "unsafe."
Already screened 'Gosnell' on campus
Parker announced the MVSU group's formation last week, calling it a "momentous accomplishment and especially important during Black History Month" in February.
"Abortion has been a scourge on the black community," she said, pointing out that a black baby is more likely to be aborted than born in New York City. The new MVSU chapter is a "great step in ending abortion in the black community."
Bomberger told The Fix that the black community has been "hit harder" than any other community by abortion. "During Black History Month (and every month of the year)," students like these can expose the millions of black lives Planned Parenthood has taken, he said.
Civil rights leader Fannie Lou Hamer believed abortion was used as a racist weapon, Bomberger said, citing a 1980 report in The Afro American that said she "spoke out strongly against abortion as a means of genocide of blacks."
The Radiance Foundation, Bomberger's nonprofit, "was the first organization to launch a public ad campaign" that worked to show the "hugely disproportionate impact" that abortion has on the black community, he said.
"We're excited to help play a role" and to equip the MVSU students so they can "communicate liberating truths to their peers."
The MVSU club has already made its presence known on campus by screening the film "Gosnell" on Monday.
MORE: Bomberger triggers Christian college student leaders
"Gosnell" tells the true story of Philadelphia abortion doctor Kermit Gosnell, who was convicted of murdering three infants born alive during abortion attempts, and of involuntary manslaughter for one woman who died during her abortion procedure. Health authorities refused to inspect Gosnell's practice, which focused on women of color, for nearly two decades.
Parker told The Fix the MVSU students are also planning to bring speakers to campus. SFLA is looking to start chapters at other HBCUs, including Mississippi's Jackson State, Tennessee's Fisk University and Tennessee State.
Planned Parenthood and abortion-rights activists "target African Americans," particularly by "heavily" locating abortion clinics in racial minority communities, said SFLA President Kristan Hawkins. The MVSU club "will do tremendous work to make an impact on ending abortion."
The Fix reached out to Alveda King, the niece of Dr. Martin Luther King, Jr. and prominent pro-life activist, for comment on the MVSU group's formation.
Priests for Life, where King is a pastoral associate, told The Fix that she would "love to comment on this," but the group did not respond to a second request.
UPDATE: The Fix added comments from a member of the MVSU club.
MORE: U. Alabama removes 'offensive' pro-life display
IMAGES: Students for Life of America, Radiance Foundation
Like The College Fix on Facebook / Follow us on Twitter