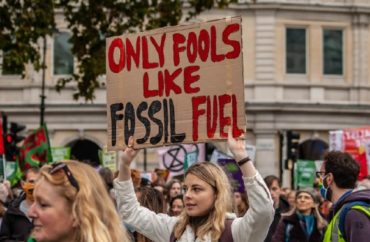 One signer is a prominent supporter of academic freedom and free speech
Hundreds of academics have signed a letter calling for American and British universities to refuse donations from oil and gas companies.
Fossil Free Research wants universities "to institute a ban on accepting fossil fuel industry funding for climate change, environmental, and energy policy research."
The letter states that "accepting fossil fuel industry funding for research meant to address the climate crisis undermines the academic integrity of climate-related research."
The signers equate universities that accept fossil funding to those that have accepted funding from tobacco companies. Many universities already prohibit tobacco funding for research.
"Academics should not be forced to choose between researching climate solutions and inadvertently aiding corporate greenwashing," the letter states.
They also stated their "concern is not with the integrity of individual academics" but rather they view it as a "systemic issue posed by the context in which academics must work."
The letter's signers include UCLA Professor Peter Kalmus and Penn State's Michael Mann.
Neither responded to requests for comment on the letter.
The College Fix sent questions to Professor Kalmus and the general Fossil Free Research email and asked about any feedback received and if the prohibition should extend to all energy companies, such as solar and wind power corporations.
MORE: Anti-oil Duke professor withdraws from Biden nomination
Professor Mann has a history of trying to silence dissenting opinions on climate change. He has filed lawsuits against a handful of commentators and conservative groups that criticized his climate change research.
Mann did not respond to any of our emails over the past two weeks asking about his motivations for signing the letter and whether or not he saw any free speech issues that could arise from a prohibition of funding.
Free-speech advocates were silent when asked for comment.
Professor Cornel West signed the letter, though he has previously condemned "campus illiberalism." He  issued this condemnation in 2017 with his former Princeton colleague, conservative Professor Robert George.
Both are founding members of the Academic Freedom Alliance.
Neither George nor West returned emails sent in the past two weeks that asked if such a prohibition could potentially cause academic freedom issues by ostracizing professors who conducted research with donations from oil and gas companies.
The Fix also asked Professor George if the prohibition could violate academic freedom by cutting off funds for university researchers who take contrarian stances on environmental issues. The Fix asked West if he supported banning donations from solar, wind and other energy companies.
Letter says to protect research funding by prohibiting certain donations
The petition stated that receipt of oil and gas money "contravenes universities' stated commitments to tackling the climate crisis" and institutions face "a substantial reputational risk" by continuing to accept these funds.
The letter also noted that accepting these funds enables fossil fuel companies to "greenwash" their reputations by giving them university credibility to advertise with. They argue that universities "inadvertently provide these companies with much-needed scientific and cultural legitimacy" when they accept these funds.
"Academics must be free to determine their own research agendas, speak their minds, and declare their findings without fear of censorship, reprisal, or the withdrawal of funding for future project," the letter stated, in arguing for a ban on funding for future climate projects.
"That freedom is compromised by reliance on funding from an industry whose core business model is diametrically opposed to science-led climate action," the signers wrote.
PEN America and the Academic Freedom Alliance's media teams both did not return requests for comment on any free speech concerns about the prohibition on oil and gas donations.
MORE: California creates climate change activism scholarships
IMAGE: Jessica Girvan/Shutterstock.com
Like The College Fix on Facebook / Follow us on Twitter