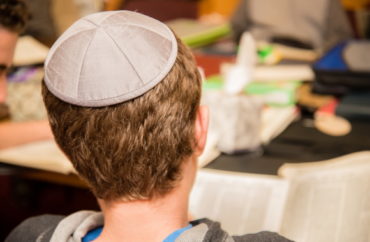 'To say something is quite different than acting on it–[the professor] acted on his prejudice,' an expert told The College Fix
Academic freedom does not protect calling out students on the basis of race or identity, according to a free speech group.
A Stanford University instructor is under investigation after reportedly asking Jewish students to stand up in class, identify themselves, and relocate to a corner of the classroom.
A campus rabbi reported that the instructor asked "'How many people died in the Holocaust?'" and after a student answered "six million" the lecturer said "Colonizers killed more than 6 million. Israel is a colonizer."
The university has since removed the instructor, Ameer Loggins, from teaching that course. He is reportedly not part of the faculty, but a teaching assistant. Loggins background is in African Diaspora Studies where he studied reality television, according to a bio of his at the University of California Berkeley, where he was working on his doctorate.
The student newspaper The Stanford Daily provided additional information from the class and disputed Jewish students were necessarily singled out due to animosity. However, the student paper reported that Loggins also asked students where they were from and called them "colonizer" or "colonized."
"Academic freedom does not permit the identity-based targeting of students," Stanford President Richard Saller and Provost Jenny Martinez stated. "The instructor in this course is not currently teaching while the university works to ascertain the facts of the situation."
Neither responded to requests for comment on the investigation.
Loggins did not respond to an email Wednesday from The Fix that asked for comment.
Alex Morey, an attorney for the Foundation for Individual Rights and Expression, told The College Fix via email that Stanford was in the right for taking action against the lecturer, since he "is alleged to have physically separated students from others based on their membership in a protected class."
Morey also explained how Stanford's private status plays a role in what can or cannot be done to protect free speech on campus.
"Because Stanford is a private institution, its actions cannot violate the First Amendment, which only restricts state action," she said. "But because Stanford holds itself out as committed to freedom of expression, its actions must be consistent with that commitment."
MORE: Skirt-wearing male ASU professor scuffled with TPUSA members
"Limiting discriminatory conduct (as opposed to pure speech) does not violate that commitment," she said.
At the same time, the lecturer's rights to a fair investigation should be respected.
"Any faculty member accused of wrongdoing deserves due process. Stanford can help ensure a just outcome is reached by providing the instructor a fair hearing with all requisite procedural safeguards," Morey said.
The Fix asked for comment on FIRE's opposition to what the instructor did and how it differed from its opposition to Florida's Stop WOKE Act, which in part sought to prevent faculty from singling out people on the basis of race through teaching concepts such as white privilege and critical race theory.
Universities sometimes require students to participate in "privilege walks."
"Stanford could not have taken action against the lecturer solely because of his pedagogically-relevant teaching or views," Morey said. Instead, the separation of students makes the situation different.
"Florida, in contrast, has declared that the advancement or promotion of particular viewpoints is always discriminatory," Morey said. "That reaches beyond conduct and into pure speech, and does so in a viewpoint-discriminatory manner."
Florida's law prohibits teaching that "members of one race/color/sex/national origin are superior to another," "some people are inherently racist," and "a person must feel guilt or anguish because of their race," according to previous comments from Governor Ron DeSantis' media team.
The National Association of Scholars agreed Stanford was right to remove the instructor.
Chance Layton, the group's communications director, told The Fix via email that suspending the professor was the "right thing to do."
"To say something is quite different than acting on it–[the professor] acted on his prejudice," Layton said.
He continued to call out Stanford for its decision to delay releasing a statement on the Israel-Hamas conflict, connecting the delay to the professor's alleged comments.
"It's obvious that Stanford's double standards have given students and professors free rein to act on their discriminatory behavior," Layton said. "Like many institutions across America, the university has made previous statements on every issue that remotely rises to national or social importance, especially those events involving groups (grievance and ethnic special interest) favored by the Left."
"Stanford conveniently didn't issue a statement in the days after Palestinian terrorists razed their civilized neighbors," he said. "Can they be surprised when the door is then left open to moral equivalence and freedom for students and professors to act out their biases," Layton asked.
Other groups either did not respond or declined requests for comment.
The American Civil Liberties Union has not responded to a request for comment on the situation sent in the past week. The American Association of University Professors said it did not have enough information to provide an opinion.
PEN America, which issued a news release criticizing a mobile billboard that named signers of a pro-Hamas statement, did not respond to requests for comment either.
MORE: U. Michigan professor tore down photos of kidnapped Israelis
IMAGE: Jyurinko/Shutterstock
Like The College Fix on Facebook / Follow us on Twitter