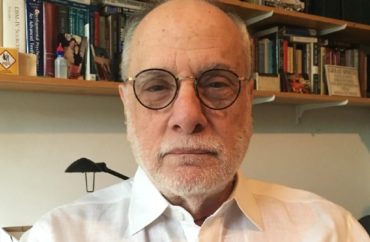 Transgender activists come for journal editor because he published research that undermines their arguments
The editor of a journal on sex and gender is facing calls for his removal because he published an article that undermined claims of the transgender movement.
An open letter called on the Archives of Sexual Behavior to remove Dr. Kenneth Zucker from his position and retract an article titled "Rapid Onset Gender Dysphoria: Parent Reports on 1655 Possible Cases," by Suzanna Diaz & Michael Bailey. Bailey is on the board of the journal. ROGD is the hypothesis that identification as transgender could be driven by social pressure.
The article remains live as of June 7 and Zucker remains in his position, however some notes have been added to the paper.
Zucker (pictured) has previously faced criticism because his clinic encouraged individuals confused about their gender to learn to be comfortable with their biological sex, instead of pushing drugs and surgeries on them.
On May 10, a publisher's note was added to the article which stated that "readers are alerted that concerns have been raised regarding methodology as described in this article. The publisher is currently investigating this matter and a further response will follow the conclusion of this investigation."
A "supplementary information" section was also removed on May 16 "due to a lack of documented consent by study participants."
"In recent years, Archives of Sexual Behavior has routinely published articles on LGBTQ+ topics that in our view did not adhere to the highest standards of intellectual integrity and publication ethics, raising concerns over editorial bias. As a result, we have lost confidence in the journal's editor, Dr[.] Kenneth Zucker," the open letter stated.
The open letter was signed by 100 people with various credentials who write or review articles for publication on sexual topics. Five of the organizations that signed are LGBT advocacy groups.
MORE: Penn professor under fire after he 'encouraged discussion' on trans issues
The signers' main criticism of the article was that it did not go through an Institutional Review Board process to certify that the study was conducted ethically. Instead, the article's data was collected beforehand by an "unaffiliated layperson," referring to Diaz.
The letter then stated that Zucker should be removed for allowing this and other articles "on LGBTQ+ topics that in [the signatories] view did not adhere to the highest standards of intellectual integrity and publication ethics."
The open letter concluded that "[u]ntil an editor who has a demonstrated record of integrity on LGBTQ+ matters and especially trans issues replaces Dr. Zucker as editor, we will no longer submit to the journal, act as peer reviewers, or serve in an editorial capacity."
The College Fix reached out to Bailey for comment about his response to accusations about his decision not to obtain IRB approval for his paper and his response to calls for Zucker to be removed from his position.
Bailey declined to comment on the situation.
The Fix also reached out over email to Zucker for comments about the situation and if the letter against him indicated any broader problems in the world of academia and publishing. He has not responded to multiple requests for comment in the past several weeks.
The Fix also asked Suzanne Trimel at PEN America about how academics should react to views they might disagree with, if trying to get an editor removed for publishing research that contradicts their own views is a good path for scholars to take and how else might academics engage with views they have disagreements with, but she has not responded to two inquiries sent in the past two weeks.
Springer Nature did not respond to multiple requests for comment in the past several weeks on the cancellation campaign and what its criteria is for removing editors.
Another open letter organized by the Foundation Against Intolerance and Racism in support of Dr. Zucker and the article has been signed by over 1,937 people. It stated that Springer's policies "explicitly allow" for publication of papers without IRB approval. One signer includes Dr. Lisa Littman, who also faced cancellation for popularizing Rapid Onset Gender Dysphoria.
"Springer's policies explicitly allow the Editor-in-Chief the discretion to accept a publication that has not sought IRB approval," the signers wrote. "The first author of this study was not affiliated with a university and did not need to seek IRB approval."
The letter also addressed allegations from those seeking the article's retraction, who they call activists. The letter noted that studies "commonly" use parental reports and that this is an important topic which needs to be addressed.
The letter draws a comparison between another study which was put under undue scrutiny, saying "this is not the first time journals and researchers who dare explore the subject of ROGD [Rapid Onset Gender Dysphoria] have been targeted for cancellation."
Addressing the allegations against the journal editor, the letter responded that "Dr. Zucker has demonstrated neutrality by routinely publishing articles on both sides of this contentious issue."
Finally the letter stated that those who are calling for Dr. Zucker to be removed and for the paper to be retracted are not motivated by good science.
"We fear that just like in the case of the original ROGD paper, the demands for retraction and sanctioning of Dr. Zucker, the Editor-in-Chief are principally motivated by the ideological opposition to Diaz and Bailey's conclusion," they wrote.
MORE: Check out the Campus Cancel Culture Database
IMAGE: Kenneth Zucker/National Review
Like The College Fix on Facebook / Follow us on Twitter