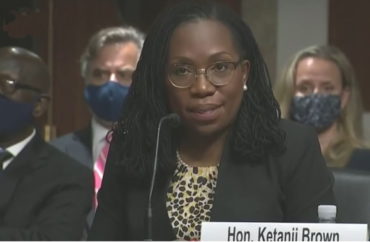 'I cannot see how Jackson could ethically sit in judgment on the case when she has held a board position that oversees the university, including its admissions policies and practices'
A number of legal experts within academia have told The College Fix that Judge Ketanji Brown Jackson, President Joe Biden's nominee for the U.S. Supreme Court should, if confirmed, recuse herself from a lawsuit challenging Harvard University's controversial admissions policy.
Since 2016, Jackson has sat on the Harvard Board of Overseers, one of the school's two governing boards. According to the Board of Overseers website, members provide "counsel to the University's leadership on priorities, plans, and strategic initiatives."
But some are concerned that if Jackson is confirmed, she would be eligible to rule on an upcoming case that charges Harvard with racial discrimination against Asians in its admissions process.
"Recusal in the case would seem obvious, even though justices treat judicial ethical rules as discretionary," George Washington University Law Professor Jonathan Turley told The College Fix in an email Monday. "Membership on the board would seem a direct and unavoidable conflict of interest."
"In the very least, it constitutes the appearance of such a conflict," Turley said. "I cannot see how Jackson could ethically sit in judgment on the case when she has held a board position that oversees the university, including its admissions policies and practices."
Ed Whelan, a distinguished senior fellow of the Ethics and Public Policy Center and former clerk for Justice Antonin Scalia, told The Fix that Jackson's position at Harvard could cause problems for her.
"It seems to me that the case for her recusal is compelling," Whelan said.
University of Wisconsin-Madison Political Science Professor Ryan Owens, who studies the U.S. court system, said he also believes recusal would be warranted.
"She likely ought to recuse herself from the case," said Owens in a phone interview with The Fix.
Owens noted that, historically, recusal has taken place when a justice had a financial interest in a case. But he said that has changed over time, where now even though individual justices can exercise their own judgment whether to recuse, conventional wisdom is that they should recuse when there appears to be a substantial conflict of interest.
"My own thought is that this definitely merits that situation," he said.
In 2016, Justice Elena Kagan was criticized for her non-recusal in a case seeking to overturn the Affordable Care Act, commonly referred to as "Obamacare."
Her opponents argued Kagan had a duty to recuse herself because in her previous role as solicitor general, she had crafted arguments defending the health care law. Nonetheless, Kagan remained on the case.
Owens said Kagan should have recused herself. "That was a big no-no,'" he said.
But Louis Virelli, a law professor at Stetson University who has written a book on recusal, said the issue of Jackson's recusal is more complicated.
In a phone interview, Virelli told The Fix he believes Jackson could run afoul of the federal statute that requires recusal if a conflict of interest causes a reasonable person to believe there is an appearance of impartiality. "That strikes me as the one that would be most powerful with respect to Judge Jackson in this case," he said.
But Virelli said he believes the recusal statute itself to be unconstitutional as it applies to U.S. Supreme Court justices, as recusal changes the composition of the Court. (In lower courts, for instance, judges can be replaced if they have a conflict of interest.)
Virelli said justices have always acted as if recusal standards are advisory, whether there is a binding statute or not.
"The balance has to be – is it more important for the Court's institutional mission that I participate in this important decision, whatever that decision may be, or is the ethical consideration about my involvement in this case more important?"
Further, Virelli said Jackson's argument for remaining on the case would be strengthened if she could show she played no role in formulating the admissions policy.
According to the Harvard Crimson, the Board of Overseers does not provide direct input on the school's admissions policies.
The College Fix reached out to the left-leaning Brennan Center, but a spokesman said the Jackson issue wasn't "something we can help you with." The Brennan Center employs a number of experts dedicated to issues of judicial recusal and ethics.
The case, Students for Fair Admissions v. President and Fellows of Harvard College, seeks to overturn a 2003 case in which the Supreme Court gave university officers the ability to use race as a factor in college admissions as long as it was not the sole determinant of eligibility.
But Asian students have argued that Harvard's current policy discriminates against Asian applicants by granting students of African American and Hispanic backgrounds an insurmountable benefit, thus discriminating against Asian students based solely on their race.
In an analysis provided to the Supreme Court, the students noted that being Asian puts potential students in a much more difficult position than being African American. Breaking down in deciles academic performance with GPAs and test scores, they note that an Asian American in the fourth-lowest decile has virtually no chance of being admitted to Harvard (0.9 percent).
But an African American in the same decile has a higher chance of admission (12.8 percent) than an Asian American in the top decile (12.7 percent), the data show.
Harvard has countered that a racially diverse student body is beneficial for everyone, and a lower court found that the school had not knowingly discriminated against Asian students. The U.S. solicitor general has filed a brief in support of Harvard's policy, arguing that race in the school's admissions only counts as a "positive" and never a "negative."
Both sides are awaiting oral arguments before the court, which are scheduled to take place after Brown Jackson takes her seat, if confirmed.
At the same time the Court accepted the Harvard case, it accepted a similar case out of North Carolina dealing with race-conscious admissions. Virelli rebuffed arguments that Jackson should recuse herself from ruling in the North Carolina case.
"I see absolutely no reason why that would be true," Virelli said. "Other than some notion that an African American justice who may or may not be in favor of race-based admissions policies, or race-conscious admissions policies, can't be objective in any case involving the policy."
He noted the Harvard case also has two questions presented, the first being whether the Court should overturn its precedents on race-conscious admissions policies. Virelli said he saw no reason for Jackson to recuse herself from that question, which is separate from the Harvard policy.
"That has nothing to do with her involvement on the Board [of Overseers]," he said.
But Turley disagrees.
"It would be profoundly inappropriate for a jurist to sit on a case for a school in which she has held a governing position and a role in setting institutional policies," said Turley in a subsequent column. "This would be akin to a justice sitting on a case on oil leases for Exxon while being a member of the oil company's board of directors."
MORE: 'Partisan hacks': Law school dean criticizes SCOTUS justices appointed by Republicans
IMAGE: YouTube screenshot
Like The College Fix on Facebook / Follow us on Twitter