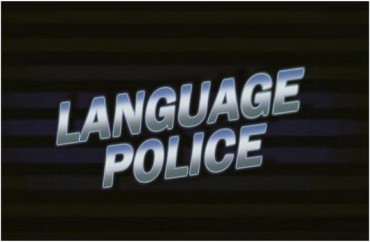 Colleges love "inclusive language," so much so that they actually pay people to come up with official guides for it.
Recall Brandeis University's list of allegedly "offensive" phrases and the (allegedly) helpful alternatives. Terms and phrases such as "handicapped space," "I'm so OCD" and even "trigger warning" are problematic for reasons you can probably figure out with little difficulty.
And if you wonder why universities pay folks to create these lists, it's because surveys like this show a majority of students feel that offensive language is an "act of violence."
Adelphi University's "inclusive language" guide certainly isn't unique … except for one feature: Under its "Gender and Sexuality" section it says
Use the inclusive term LGBTQIA+,which stands for lesbian, gay, bisexual, transgender, questioning or queer, intersex, and asexual/agender/allies, and others.

Use the singular they when referring to someone whose gender is not specified. People who are transgender may also have preferred pronouns. Justin Vivian Bond uses the nonbinary pronoun "they," or more simply "V," rather than the traditional "he" and "she" [emphasis added].
According to the Nonbinary Wiki, Bond — V — is a "genderqueer cabaret performer" known for the character Kiki DuRane.
MORE: University's 'inclusive language' guide: Don't use 'mother' or 'father'
While the pronoun "they" has gained quite a bit of traction over the last few years, there are many, many others — making "preferred pronouns" just that. Consider:
I first began thinking about changing my pronouns around six months ago, when I started considering the possibility that I was nonbinary. Everyone I knew who used gender-neutral pronouns chose either they/them or ze/zer. However, neither of them really felt right to me.

I wound up scrolling through lists online, and ve/ver caught my eye. At first I felt silly for not wanting to use more common gender-neutral pronouns. However, I've come to realize that the most important thing about pronouns is that they feel right to the person who chooses them.
Other helpful advice from the Adelphi guide:
–Make sure "black" is capitalized when referring to people. Never use "Blacks"; be sure to say "Black students," etc.
— Always use "Native American"; that is, unless a Native American tells you otherwise.
— Avoid the term "minority." Use "people of color."
— Use gender-neutral terms such as "chair" instead of "chairman," "humanity" instead of "mankind," and "spouses/partners" instead of "man and wife."
— "Enslaved person" should be used for "slave"
Interestingly under the "Disabilities" section, it says "wheelchair user" is recommended because "wheelchair-bound" or "confined to a wheelchair" are not allowed.
MORE: Student op-ed: 'bothersome' that Spanish language is not 'gender inclusive'
IMAGE: YouTube screencap
Like The College Fix on Facebook / Follow us on Twitter