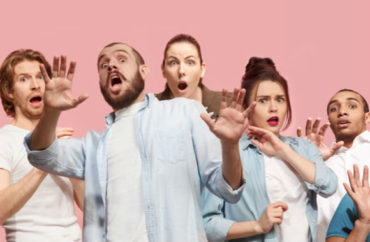 There may be no college in America more politically correct than Massachusetts' Brandeis University.
As noted by The College Fix in June, the school's Prevention, Advocacy and Resource Center (PARC) compiled a list of "oppressive" words and phrases and then offered alternatives.
Among them: "killing it," "take a shot at" and — wait for it! — "trigger warning." Because guns.
Those in the student-run PARC must have gotten bored again as they've found a few more, er, "oppressions." According to the New York Post, "more than a dozen" terms and sayings have been added to the center's list. Indeed, PARC notes on its website that the list "will grow and change all the time."
Additions include "I'm so OCD" ("suggested alternative": "I'm very organized, detailed oriented") and "whipped into shape" (could evoke "imagery of enslavement and torture" so try "organize," "spruce up" or "put in order").
Then there are the phrases which "normalize violence against animals" such as "more than one way to skin a cat," "killing two birds with one stone" and "beating a dead horse." PARC's suggestions include "multiple ways to accomplish the task," "feeding two birds with one seed" and "refusing to let something go."
MORE: Students report peers' mean words to UConn bias reporting system
"Handicapped space" has been added to the terms that "can contribute to stigmas about and trivializes the experiences of people living with disabilities, mental health conditions, and more," as has "spaz" — which should be replaced with "clumsy."

The PARC also says that the phrase "Facebook stalking" downplays the "experiences of actual stalking, which can be very dangerous and life-altering" and instead recommends "lurking" or "researching online."

And forget about calling that white tank top a "wife beater" anymore.

"This term trivializes relationship violence," the group says.

The latest updates came despite the scorn and derision that greeted the original Oppressive Language List when it surfaced in June.
The Post notes that in response to widespread mocking and criticism of its initial list, PARC deleted "at least" one term, "picnic," which it claimed is "associated with lynchings of Black people […] during which white spectators were said to have watched while eating."
Part of PARC's list is titled "Language That Doesn't Say What We Mean" which "encourages" students "to be transparent" about what they're saying. For instance, "everything going on right now" is too vague — you need to be specific as in "police brutality," "protests" or "BLM."
One should also avoid "committed suicide" as this makes a value judgment regarding "suicidality."
MORE: Offensive words an 'act of violence,' say majority of students surveyed
IMAGE: Master1305 / Shutterstock.com
Like The College Fix on Facebook / Follow us on Twitter