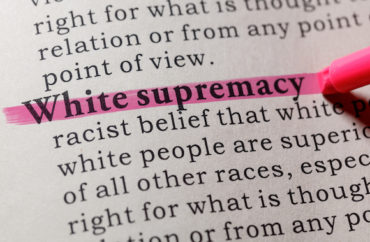 If you believe the Democratic talking points coming out of Congress and the new presidential administration, the gravest threat facing America today is white supremacy.
But do not fret — an Africana Studies professor from Vassar College is offering a lecture — free — early next month on how to survive the white supremacist threat.
Jasmine Syedullah, who teaches the courses "Abolitionist Theory" and "Policing the Planet," will be Naropa University's Fredrick P. Lenz Foundation Distinguished Guest Lecturer on February 4.
Naropa is a very small, private "Buddhist-inspired" institution located in Boulder, Colorado. According to its website, the Lenz Foundation "seeks to inspire the emergence of an enlightened American society that reflects the universal Buddhist values of wisdom, compassion, mindfulness, and meditation."
Syedullah's talk titled "Surviving White Supremacy: Towards a Radical Dharma of Staying Fugitive" will go "beyond binary moments of allegiance with antiracism efforts into The Radical Dharma Framework for Liberation."
In Buddhism, dharma  is "the nature of reality regarded as a universal truth." Radical dharma appears to be Buddhism's version of critical race theory. The latter is also a set of programs — and a book — featuring none other than … Professor Syedullah.
"Radical Dharma's" book description reads
Igniting a long-overdue dialogue about how the legacy of racial injustice and white supremacy plays out in society at large and Buddhist communities in particular, this urgent call to action outlines a new dharma that takes into account the ways that racism and privilege prevent our collective awakening.
Before heading to Vassar, Syedullah taught at the University of California Santa Cruz where she got her PhD in Politics with "a designated emphasis in Feminist Studies and History of Consciousness."
Regarding her upcoming lecture, Syedullah says
To live with fearlessness and grace (as Rev. angel Kyodo williams instructs [see here]) in the face of our greatest teachers—trauma, uncertainty, and change—we need well-worn practices to bring us closer into integrity with our whole truth, uniting everyday priorities with our highest ideals in real-time, in community with each other, and in honor of our living ancestor, mother earth. Especially in times of collective emergency, how we protect and serve Black futures matters—not just for us, but for all our future generations.
Naropa Vice President of Mission, Culture, & Inclusive Community Regina Smith said the act of surviving white supremacy causes a "deep spiritual fatigue" as people (especially those in marginalized communities) are "asked to rise, again and again." She added Syedullah reminds us that "we have the tools we need and that nourishment is available in our communities, in our homes, and in our very own hearts."
MORE: Naropa U. prof suspended after refusing to speak in his classes
MORE: Funding education with property taxes is 'covert white supremacy'
IMAGE: Feng Yu / Shutterstock.com
Like The College Fix on Facebook / Follow us on Twitter