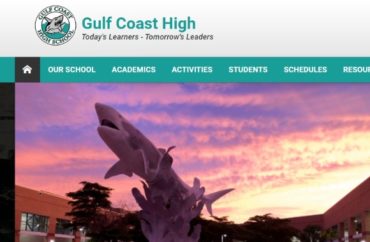 UPDATED
Club is now recognized by Gulf Coast High School
A Florida high school agreed to recognize a nascent pro-life club in November, after it was threatened with a viewpoint-discrimination lawsuit. But Gulf Coast High School had some conditions it wanted to apply to Sharks 4 Life, according to the law firm that threatened the suit.
In a Dec. 3 letter to Principal Joseph Mikulski, made public Wednesday by the Alliance Defending Freedom, the law firm alleged that Mikulski had told its client Gabrielle Gabbard that the club needed "preapproval" for any materials it planned to distribute. The principal also allegedly said some materials might be banned entirely.
These rules are both an "unconstitutional prior restraint on speech" and a violation of the Equal Access Act, which requires school districts to treat student groups the same regardless of viewpoint, alliance legal counsel Michael Ross wrote.
Unless the school requires prior approval of other clubs' materials, it cannot single out Sharks 4 Life under the statute, and under the First Amendment it cannot subject any student group to "a policy which does not contain objective criteria" for evaluating materials before they are posted, he said.
Ross cited a long list of court rulings that prevent schools from censoring students based on how "political" or "controversial" their views are – the stated justification for banning the club's formation.
The school should also not confuse its right to "control content that is part of its educational curriculum" with trying to control the content of "noncurricular student groups," he said.
The alliance's Wednesday announcement that Sharks 4 Life had its "first official event" of the new year did not disclose the school's response to the Dec. 3 letter.
Ross simply says that the school, part of the Collier County Public Schools, "affirms that students have the right to express their beliefs about the immense value of every human life." It does not mention whether the club is subject to any form of prior review or approval, or whether the school district changed its policies to treat student groups equally under objective review criteria.
Asked whether the club was in fact required to submit any materials it plans to distribute for administrative review, some of which may be banned from distribution, a spokesperson for the school district answered a question The College Fix did not ask.
"The District fully complies with the Equal Access Act" and has a policy specifically on equal access for "Non-District Sponsored" clubs, Chad Oliver wrote in an email:
The principal at Gulf Coast High School treats all clubs in the same or similar manner and has not engaged in censorship activity. Despite the claims, speculations, and allegations, no proof of any such activity has been provided.
He said the district's general counsel had spoken with the alliance's counsel "and advised that the club was fully active, a sponsor had been found, and there was high student participation." The alliance's counsel did not then, and has not since, alleged "any wrongful censorship" to the district's counsel.
"It is unfortunate this matter has once again been sensationalized and inaccurate information disseminated," Oliver wrote. The Fix did not ask if the school had censored the club, "wrongful[ly]" or legitimately. Prior review does not invariably mean that reviewed materials will be censored, edited or blocked from distribution. It does not have to be carried out in order to change how a speaker plans to speak, knowing that prior review is possible.
Gulf Coast High School "never directly responded to us or the club," alliance lawyer Ross told The Fix in a Thursday email. "But they have allowed the club to operate and have not required the club to seek prior permission before posting materials since the club began operating last month."
Read the Dec. 3 letter and Wednesday announcement.
UPDATE: The school district and alliance responded to Fix queries after this post was published. Their comments have been added. The excerpt has also been modified to account for the alliance's comment.
MORE: School threatened faculty for advising nascent pro-life club, ADF says
IMAGE: Gulf Coast High School screenshot
Like The College Fix on Facebook / Follow us on Twitter